Hello!
How much can happen in a short time. We're over a week further and I can tell a whole bunch of stories again 😉 For example, about a conversation I recently attended that was about the food on board. The meals are excellent! We have about 700 people who eat lunch with us (the crew, day crew and security). However, food is prepared for almost 1000 people. Our day crew eats for two and new crew always eat too much in the beginning too, and they notice that in the kitchen and I know from my own experience that's true, lol.
Hospital
Last time I told you that here on board, we are experiencing many things for the first time. The Low Care Unit (LCU) started running this week. Operated patients who need some extra aftercare / rehabilitation, but are reasonably independent, are received here.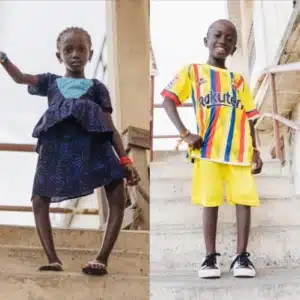 Several operations have already been performed. Children who have had surgery on bent legs, tumors that have been removed. Interesting procedures have been done, such as removing a piece of a rib to reconstruct a new jaw. Here's another story about a girl who had surgery on her bent legs last year: Love and Faith Over Fear – Mercy Ships
Someone was also operated on after suffering the effects of a flesh-eating bacteria, NOMA. It's a horrible disease. I've read about it. It occurs in children who live in poverty and poor hygiene, and are often malnourished. 9 out of 10 patients die in the first 2 weeks if they are not treated in time. Noma is an infection in which the tissues in and around the face die. The infection destroys the bones, tissue, and the rest of the face. And it manifests itself through ulcerated wounds. It's a form of gangrene. It is not contagious, but starts as an inflammation of the gums and spreads from the inside of the mouth to the rest of the face. When you heal from Noma, you look very different from normal people. There may be holes in your celestial, your nose may be gone and/or your lips too. The plastic surgery that is being performed here on board included the making of new lips. This type of operation does require multiple surgeries/treatments, so our patient hasn't left yet. Super awesome that someone gets the chance for an ordinary life!
It reminds me of why Mercy Ships was founded. To bring hope and healing to the forgotten poor. What does that hope look like? Recently, a special story was shared about this (not happened here, but in another year). Not everyone is eligible for surgery, some are terminally ill. Mercy Ships guides this dying process through a hospice. One of the persons was a Muslim. He was in a hospice, lonely. None from the mosque where he visited him. Christians, however, visited him, took care of him, showed him love. He then decided to become a Christian and to embrace and receive spiritual hope and spiritual healing. He died in peace.
This story also fitted in nicely with the message shared on Thursday by one of the carpenters at the Deck devotion. He was talking about those crazy Christians who believe that God created man and man lived with God in paradise. Then man made a mistake and man was banished from paradise. However, God made a rescue plan by sending Jesus to earth, who would restore the relationship with God. It's quite a strange story isn't it?! The speaker gave an example from the movie Saving Private Ryan, which takes place in WW2. The Americans apparently had a policy that if there was only one surviving son of a family, they would pick up that son and return him to the family. What had Ryan done to deserve this? Was he a nice man? A number of soldiers die in this "rescue operation". The leader lies close to Ryann badly injured and says "Earn this". A price has been paid. How can he pay this back? What can he do?
Then a well-known Bible verse was read from John 3:16 and 17: For God so loved the world that He gave His only Son, that whoever believes in Him should not perish but have eternal life. God did not send his Son into the world to condemn the world, but to save it from destruction through Him.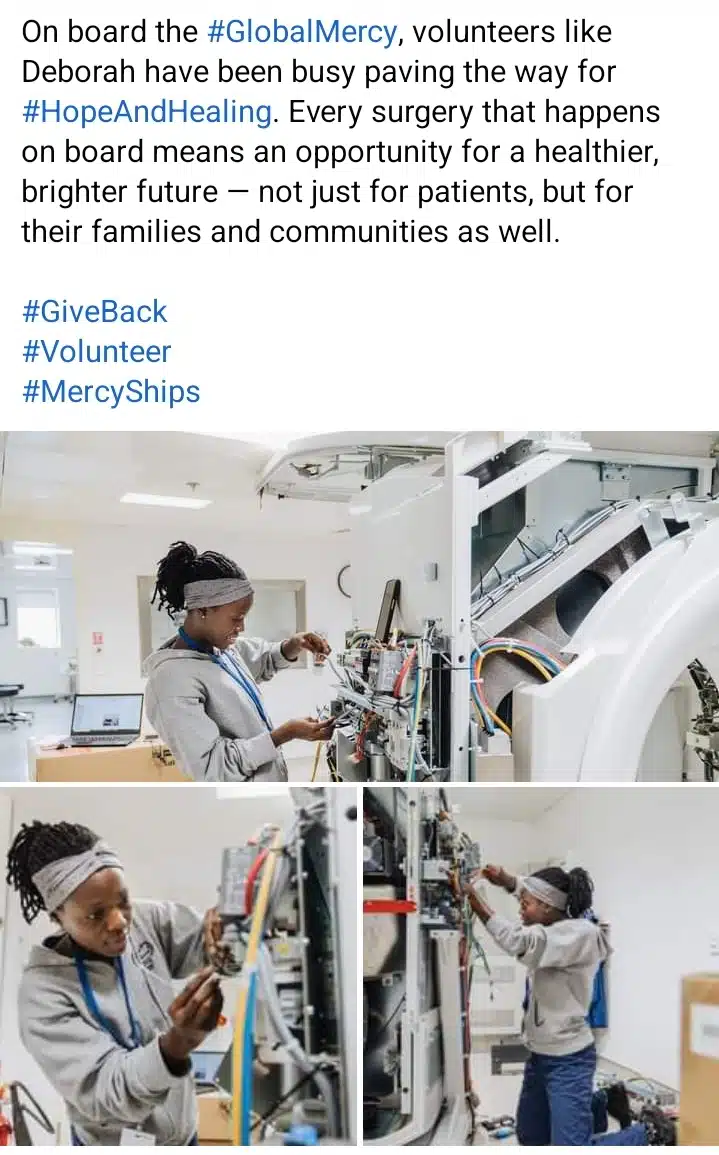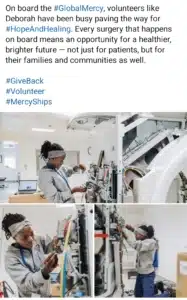 God loved us so much that He gave His Son. Whoever believes in Him will be saved. How did we deserve this? There is no bill to pay. The price was paid when Jesus was crucified. But why did Christ come? In the Bible book Luke 4 verse 18 and 19 we read that Jesus says: The Spirit of the Lord is upon me, because He has anointed me to bring good news to poor people. He has sent me to proclaim that captives shall be set free, the blind shall see, the oppressed shall be set free, and the time of God's grace has come." He did not come just to save man. We are His hands, feet, eyes, His body. Jesus uses us to do all those things. We make a difference. Deserve it! Earn this. I thought it was an interesting and beautiful comparison, I can't remember having heard this message like this before. And of course very appropriate. We can all do something beautiful and meaningful to the people around us.
My Ghanaian friend Deborah works in the Bio Med team. They maintain and manage various complex equipment. Here you can see her in action.
Work projects
Friday is my last working day. Hopefully what happened last week won't happen to me. I was on weekend shift (Sunday) and I thought I had cleaned and prepared everything properly. However, I had not done a double check with the arrival data from reception. As it turned out, someone arrived who was not on our hospitality list. We had not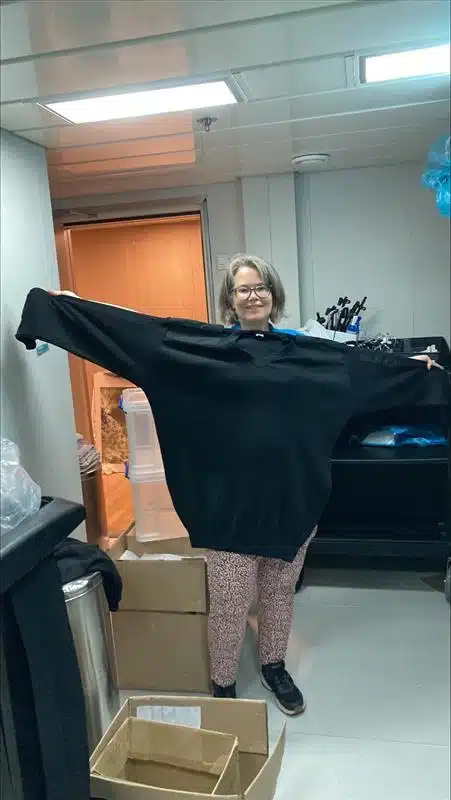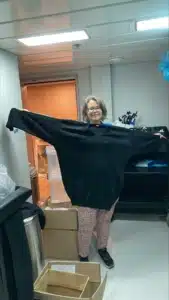 prepared a cabin and made a bed. And she also arrived around 3 am. The people who worked the night shift took her in and quickly made the bed. Fortunately, it turned out okay, but it is annoying when something like this happens.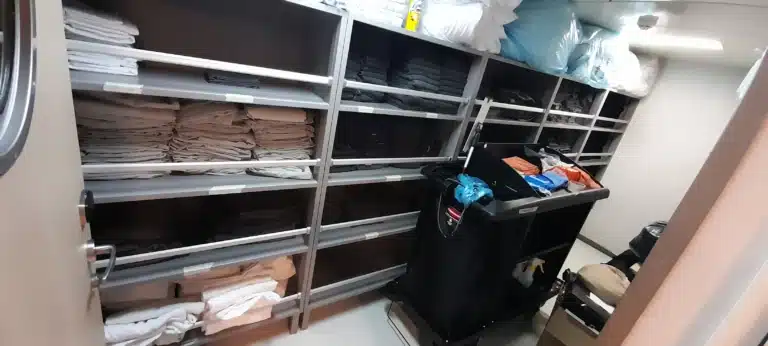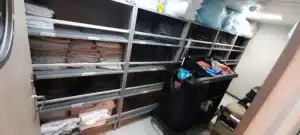 At the moment we are not so busy in hospitality during the week preparing cabins for new volunteers and departing volunteers. We also have very few guests. The business manifests on weekends! That means there's time for projects! For example, I cleaned tubes that should hold the pans in place when we sail (removed a good layer of grease). I was also busy cleaning up and refurbishing two hospitality areas. We found a 7 XXL sweater there, huge. I couldn't imagine having such a large person on board here, lol.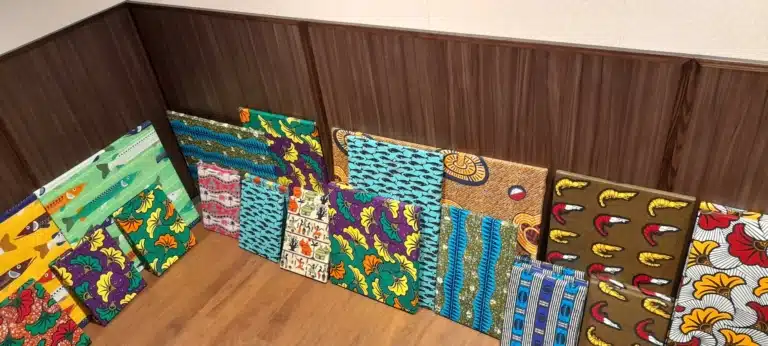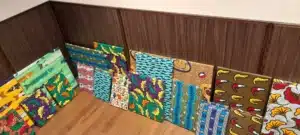 Another project was covering frames with cheerful African fabrics! We went shopping and then cut, ironed and stapled the fabrics. With these 'paintings' we have brightened up the various accommodations.
Every Thursday evening we have a Community gathering. This is followed by serving ice cream as standard. Each week it's a different team's turn. Housekeeping and hospitality was on turn tonight. And I  volunteered to help with that. It was fun to do, I could practice a lot with creating and making beautiful ice cream balls. I think we served ice cream to about 200 people. However, I did have the least popular flavour, which was coffee!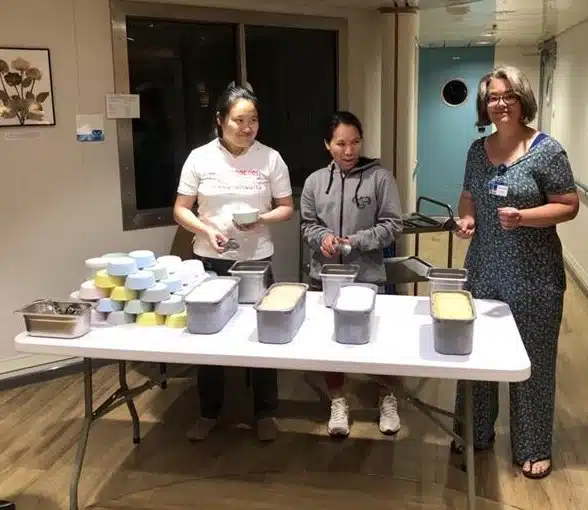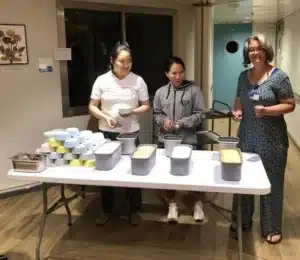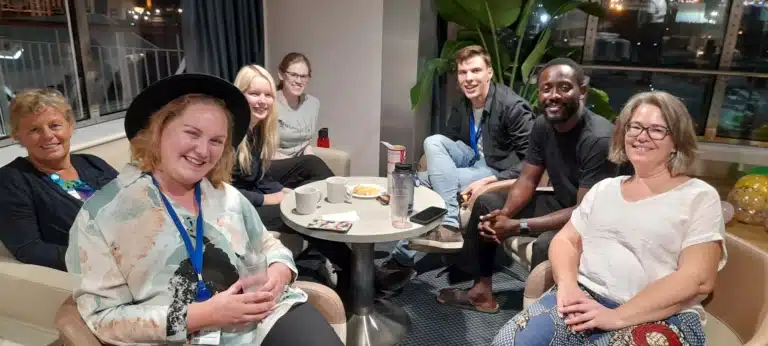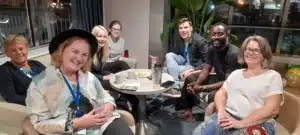 Birthday on board!
And then my birthday 😊 I was able to enjoy that for over a week (and I think there will be an after party 😉). Last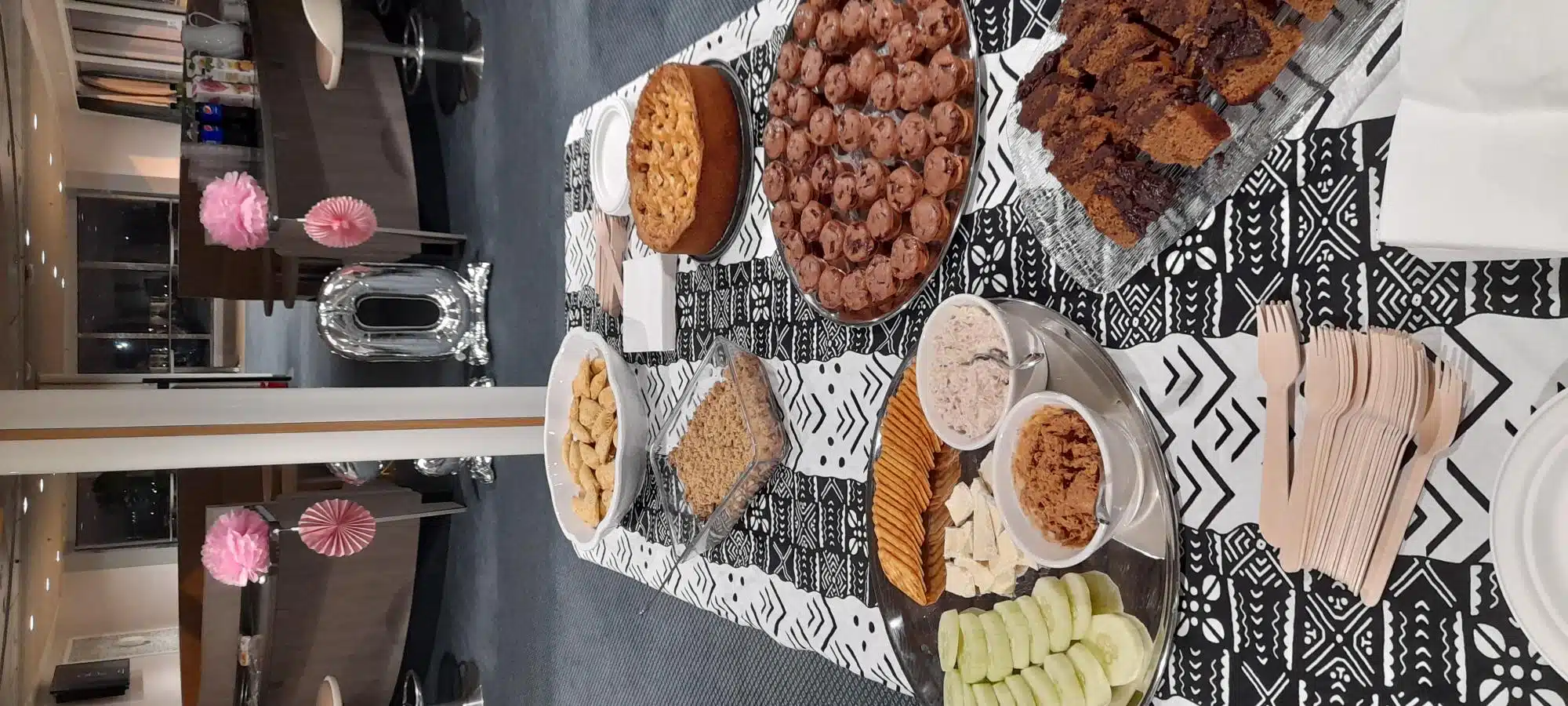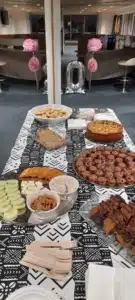 Saturday I celebrated with Inge, she turned 30 and I turned 44. I had fun baking apple pie, peanut butter cake (gluten free) and a special chocolate cake. A lot of things went wrong (such as cocoa powder that turned out to be chocolate milk powder), but I was able to save all the bakes and also received the necessary compliments for the food. They liked it very much. I also baked Ghanaian meatpies. Fortunately, I had great help from my friends with the various bakes, which was also very nice! Inge had taken care of the decorations. The various guests found it very nice and cozy. We played games, chatted and ate. There was music. And we were with many nationalities. Ghana, Guinea, Congo, Norway, Poland, Germany, America, Netherlands, Sweden, England, Australia, South Africa and I think I'm forgetting a few more.
We also talked about the different habits celebrating birthdays. It is very strange for many foreigners that the Dutch congratulate not only the birthday person, but also the parents / family / and friends. Another thing that people also find unusual is that you celebrate it before your actual birthday. People were very confused about when my birthday was now 😉 Another difference is that in the Netherlands, the one celebrating their birthday, is also the one who hosts and takes care of the cake, snacks and drinks.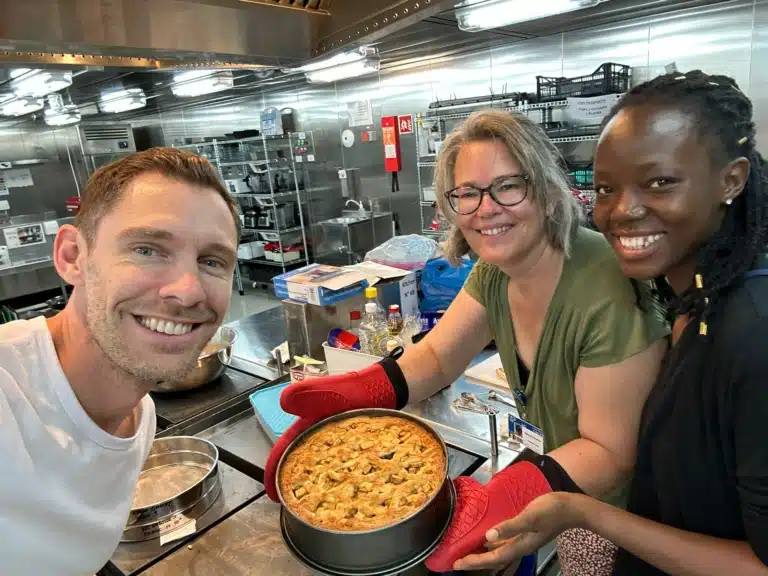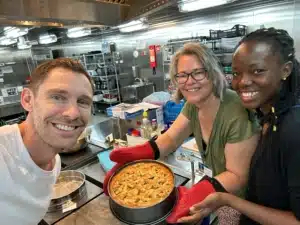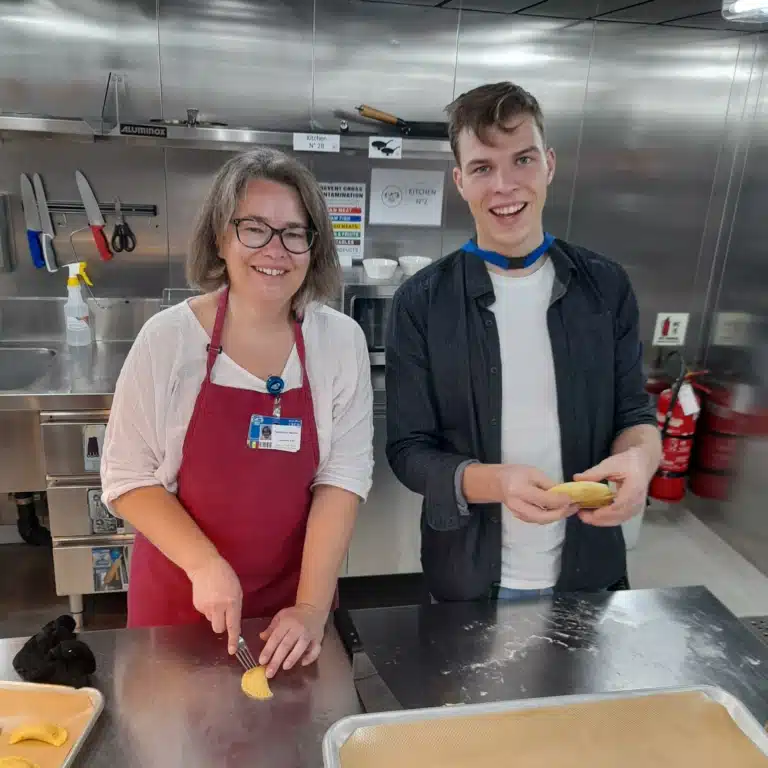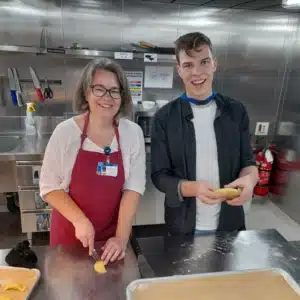 Sunday there was a Dutchie night. Since I still had enough goodies left from Saturday, I brought the leftovers with me.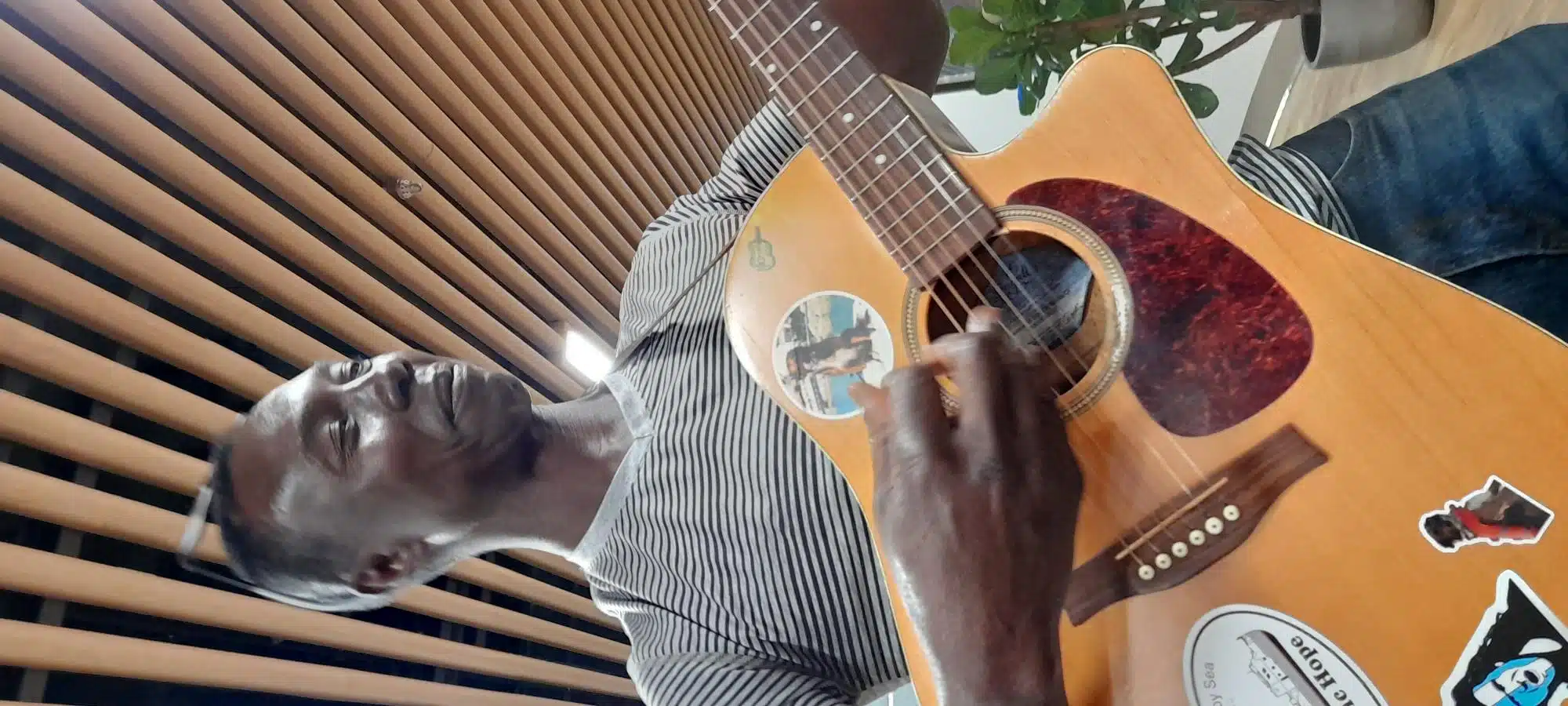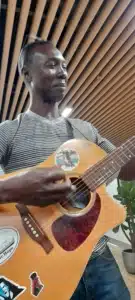 Fred forgot to come to the birthday party, but more than made up for it by grabbing his guitar and playing for me. The Dutchies sang along and I blushed from all the attention.
On Wednesday I received a message that a package had arrived and mail. Very nice to receive some birthday cards. And my package had been on its way since mid-January, so luckily it was received on time (just before leaving). Filled with special comic books (about the life of Jesus) that I want to give as gifts to various friends on board. I was able to give one to Amina right away who was very happy with it!
Thursday the 16th was the actual birthday. My roommate had written a sweet card and also left a note on the mirror. My team leader had sewn something for me, a garland with some scraps of fabric that we had used to cover the frames. Very nice! Last week I had chosen the fabrics that I wanted to have in it.
We started the morning (of my birthday) with a deck devotion. The speaker had a nice message (see under the heading hospital). Afterwards the announcements came and one of them was that it was my birthday. They also sang for me. A great experience with so many men, guitar and some drums! Then we had a work meeting. It was with a tear. The sister of one of the crew members had died shortly after giving birth, leaving behind a husband with a 2-year-old child and a 2-day-old baby. All you can do then is pray.
A lot happened during the day as well. During lunch the bell was rung for me in the dining room and I was again serenaded. We also received a message that we were not allowed to disembark. There is a court case against an opposition leader, resulting in demonstrations and riots. Today that resulted in blockades, buses that didn't run, things that were set on fire. Crew members who went off ship were called and summoned to come back on board.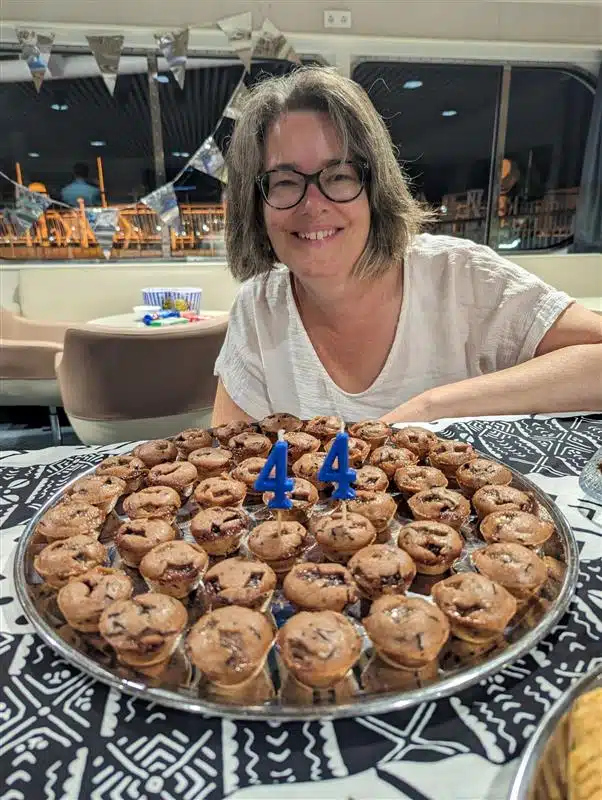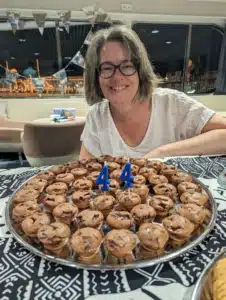 And tonight after getting my dinner, Fred rung the bell, so there was again more birthday singing! It was impossible to forget it was my birthday 😉 And I received several messages via Facebook and Whatsapp, which was very nice. Thanks to everyone!
This was my second last blog. My time in Senegal is almost over!
Greetings!