Hello to you!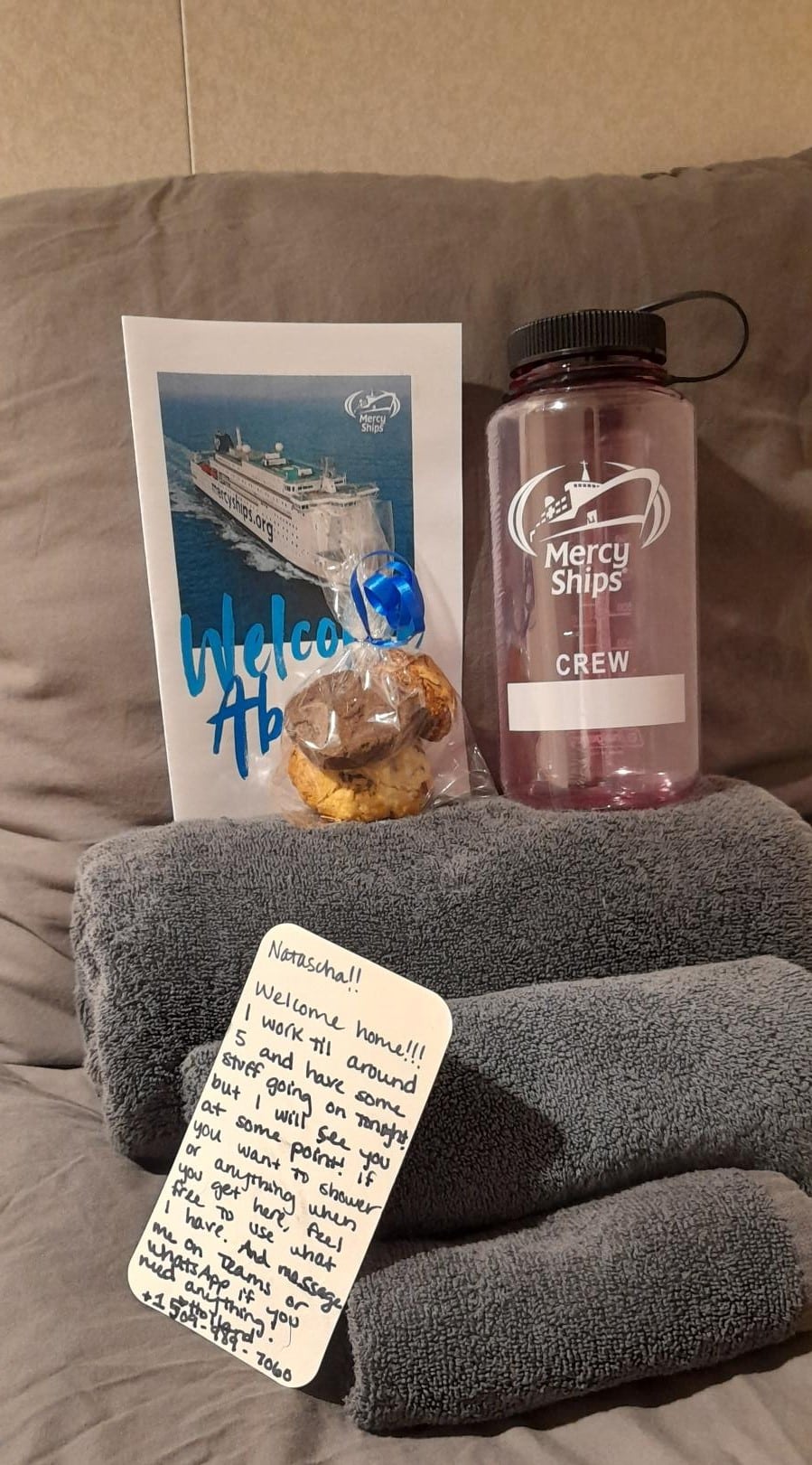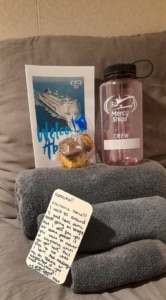 Another week has passed 😊 I am further familiarizing myself with the work of hospitality, and I'm finding out that the cleaning of the cabins can be quite intensive if you do a number of them in one day. It reminds me of the period when I worked for Thuiszorg (especially during the holidays). In addition, unexpected things regularly happen. Think of an event where people forgot to reserve something to drink and snacks, or a double booking of rooms. Today (Saturday) I was on duty and there was a lot going on. Now I'm tired!
What I haven't mastered yet is all the administration. It is complicated with various systems. In outlook you have an hospitality agenda where all new and departing crew members are listed. However, every day we also receive a separate list that we collect at the reception, which sometimes contains a person who has not yet been registered by us or who has different room numbers than we have in our system. We check these lists too. During the day, we receive by e-mail different messages which sometimes result in changes. Or information about a new crew member or guest whom is coming soon. Changes are, for example, a different day of arrival, or something that also often happens, people extending their stay on board.
We also keep track of which cabins we are going to clean that day, which ones are ready, where you are going to place the welcome packages, stick name tags on. We also have two Excel files (departure and arrival) in which all activities are recorded and we can check off what we have done per cabin. Fortunately I work with a number of experts and it is expected that I will master this too 😉
Deck 8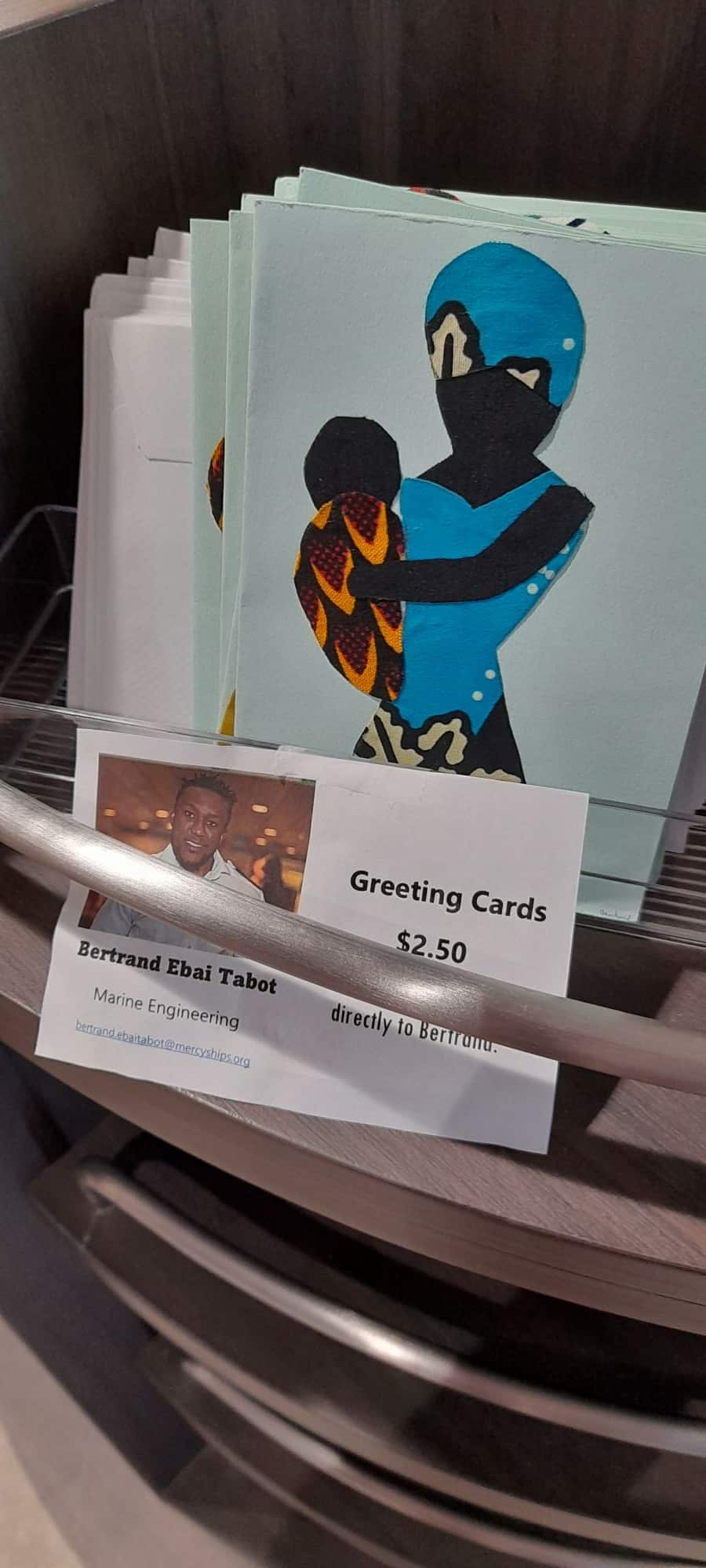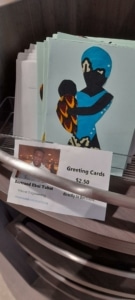 This time it's deck 8's turn. On deck 8 you will find a number of offices (for hospitality, ICT, human resources, for example), training and meeting rooms, a prayer room, but also the 'ship shop' where you can buy all kinds of things (magnets, snacks, garbage bags, clothing, etc) . In this shop you can also buy homemade items or treats from crew members that can earn them some extra (especially relevant if you come from a poor country).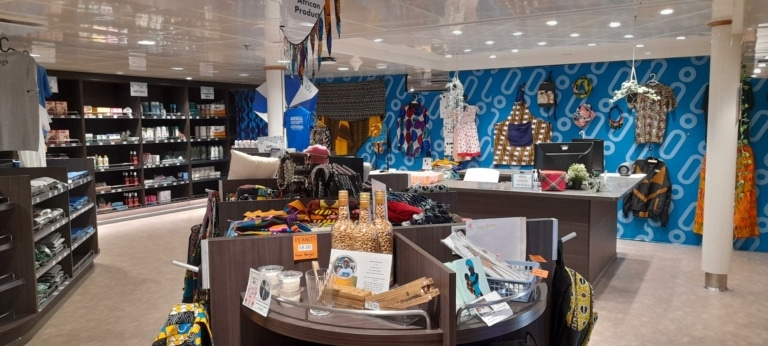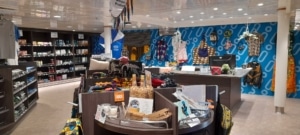 Ship shop
You also have a café here (with different types of coffee), the bank (where you can arrange your financ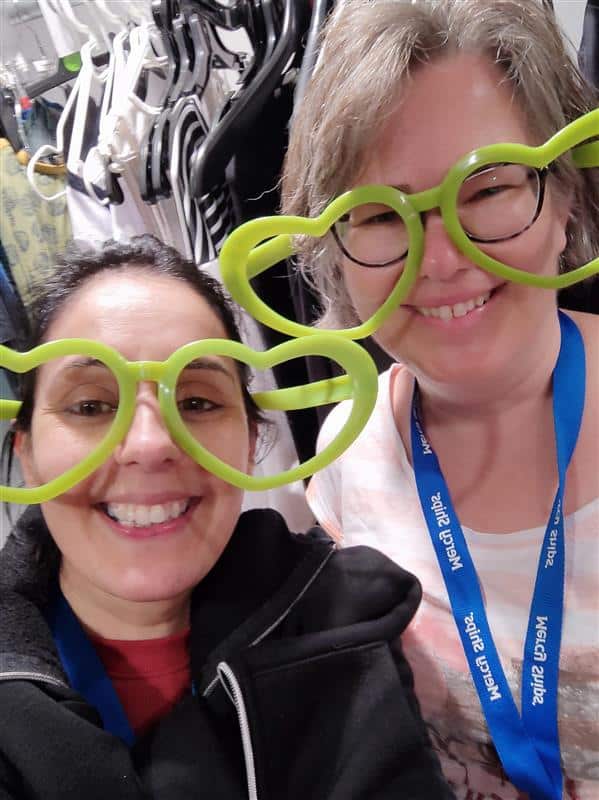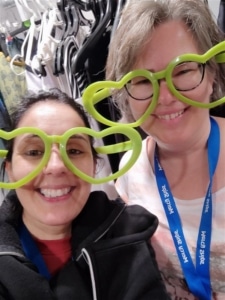 es on board) and the boutique with surprising items (to take with you for free). Currently I am maintaining the boutique (see picture with Ami 'spreading the love'). On board you can pay with your crew card (also the 'key' for your room). I deposited some cash at the bank to be able to pay with my card (because I hadn't transferred any money yet). You also have a library on deck 8.
At the end of January a hairdresser will come to work as a volunteer on the ship. So there is also a hairdresser's salon, completely equipped to be used. This is currently being done by crew members. Last week I was asked if they could use the salon.
On deck 8 we also have our devotion every week, I already wrote about that in blog 2. So you can also sit outside 😊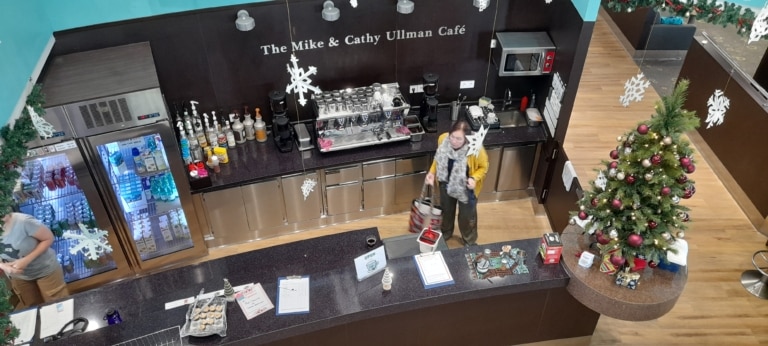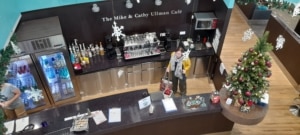 Life on the ship
Reception
The heart of the ship is perhaps the reception, where a lot happens. The employees have to know everything about the ship and all decks. So they know the ship very well. They play a role in the 'Fire drills' (of which I have already experienced two), are the source of information for all kinds of things (help, there is no longer a bus from Santa Cruz, what now? until, hey Natascha your bank card has been found). Usually people working in this function make a long term commitment. The reception is manned 24 hours a day, so they also work in rotating (night) shifts.
Dining room
Another place of importance is the dining room! There is room for 660 people. Meals are served here for the crew 3 times a day. The dining room can has room for 641 people. At full capacity, this means that approximately 1,000 meals can be served per meal (contracters who work here during the day will also eat with us, and the cooks also cook for patients and their 'care giver').
In the weekend, a meal is generally skipped and you either have to make a packed lunch or packed dinner. The kitchen and dining room staff have a very intensive job. They work in blocks of approximately 2 to 3 hours, 3x a day. Their working day starts around 6 a.m. and ends around 7 p.m. So people go to bed on time. Fortunately, they have a schedule and they don't have to do this 5 days in a row. The dining room also has a 'bread line'. Bread and all kinds of toppings can be found here day and night, you can prepare sandwiches or toast bread. I think the caps of the freshly baked bread are delicious!
Activities
Last week there were again a few special activities. The first meeting in preparation for the 'Field service' has been held. A number of Senegalese told something about their country and region, some customs and greetings. We were then able to talk in small groups and ask some questions. Just like in other African countries, there are several tribes and language groups here. Most Senegalese speak several local languages ​​and French, and if they have studied they often speak English as well. Wow!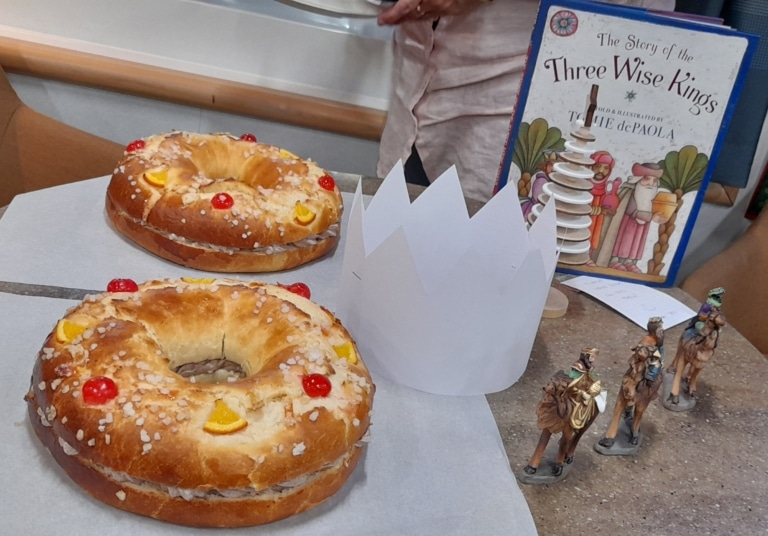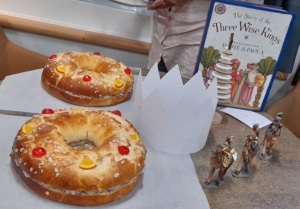 On January 6 it was 3 Kings (from the Christmas story – the 3 wise men from the east). It is the event of the year in several Spanish-speaking countries. It also resembles Sinterklaas, children get their shoes out on January 5th and receive many presents on the 6th. The 3 kings enter through the window to fill the shoes. The 3 kings traveled on camels and a bowl of water and some bread is placed in front of the camels. If you've been naughty you get coal as a gift (not a big punishment, because it's made of candy 😉). They eat Roscón de Reyes, a kind of bread that is decorated with some sweets. This was our special treat on the 6th. I also went to listen to the reading of the story of the 3 Kings.
A film is shown every Friday evening. This time Sense and Sensibility, a British costume drama. I was invited and enjoyed seeing that film again.
I would almost forget, I also went to Ikea in Santa Cruz on Monday (bought a new 'firm' pillow) and I made a short walk through the city. I was very impressed with a swimming pool there.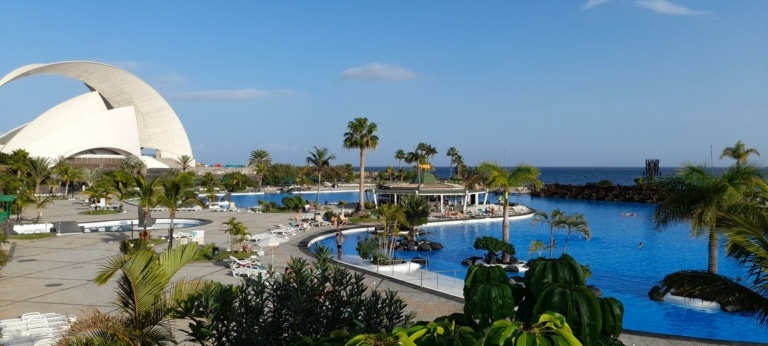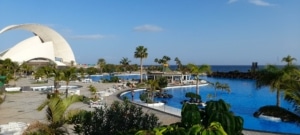 I need to do some reading about the different places and areas. I have rented a car for next weekend and will go exploring, I regularly hear enthusiastic stories about beautiful places.
Until next time!