Introduction
On Monday someone shared an article about (economic) refugees from Senegal. Senegal has a large group of young people and an unemployment rate of 25%. An unsustainable situation. So several people scrape together some money and get on a boat to Spain. Not everyone makes it, but some are rescued by the Coast Guard. We saw this in practice on Monday afternoon, when a boat with more than 20 refugees was towed in by the Coast Guard and moored near the Global Mercy. When I walked past the boat in the evening, I couldn't imagine sitting in such a boat when it storms. You must be very desperate to do something like that. The next day I read a Bible verse (Leviticus 19:33-34) that says: Do not oppress a foreigner in your land. Treat foreigners who live with you as a compatriot. Love them as yourself.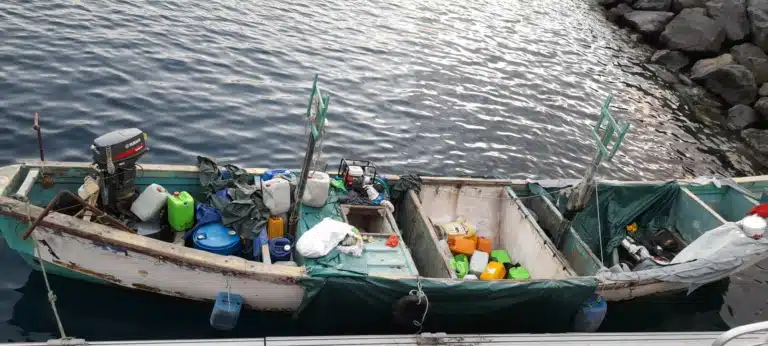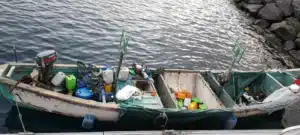 Refugee boat
We are about to leave Tenerife! On Friday afternoon the mooring lines will be released and the African Mercy and the Global Mercy will sail away.
Today, however, as promised, the hospital is the main focus of this blog. It's going to be a long story! On the ship, decks 3 and 4 are used by the hospital. One of the reasons to place the hospital in the lower part of the ship has to do with accessibility for patients, it is impossible if they have to go around the entire ship 😉 There is a separate entrance for the patients on deck 4 and the regular crew has access to the ship on deck 5 (where the reception is also located).
Last time I told about a number of training courses I had followed. One of the presentations was about the hospital. Would you like to read about that? I give a summary of the training at the end of the blog (see background information).
The selection of patients and process to surgery and recovery
There are millions of people who need surgery. How do you find those patients (for example, people are sometimes ashamed of their ailments) and how do you make a choice? Mercy Ships works with criteria, but it is very difficult. Ideally you would like to help everyone, but unfortunately that is not possible.
The process is shown in the drawing below.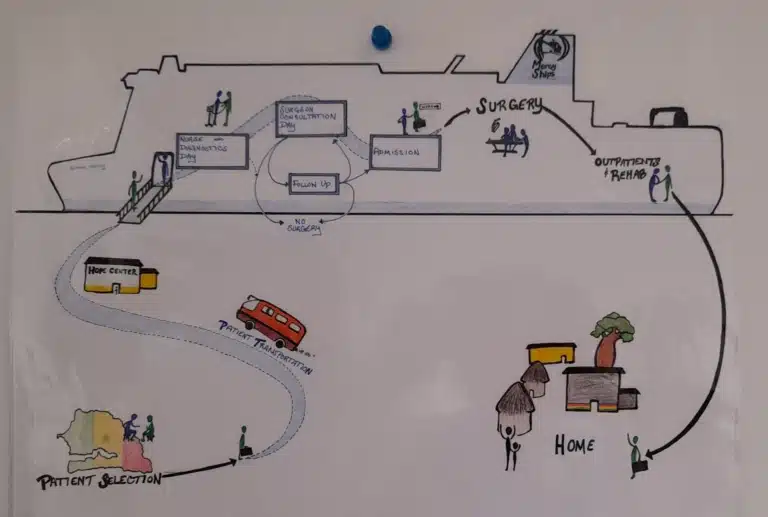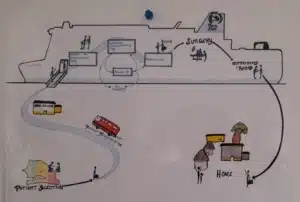 There is a team that travels the country looking for patients who need surgery and who are eligible for treatment. This has already taken place in Senegal. Then the patients are picked up and taken to the "Hope Center". People stay here for a longer period of time to go through various investigations. The investigations largely take place on board, after which a diagnosis can be made. This is a first selection (not everyone gets through this). Then there is a consultation day with the surgeons and it is decided who will receive a follow-up appointment, who will be rejected and who will be admitted for surgery. After the operation, you will either stay on the ship for recovery and rehabilitation (the more serious cases) or in the Hope center. At some point they will go back home! Full of hope with a chance for a new and better life 😊
Guided tour of decks 3 and 4
The hospital held an open house for crew members on Monday afternoon. Those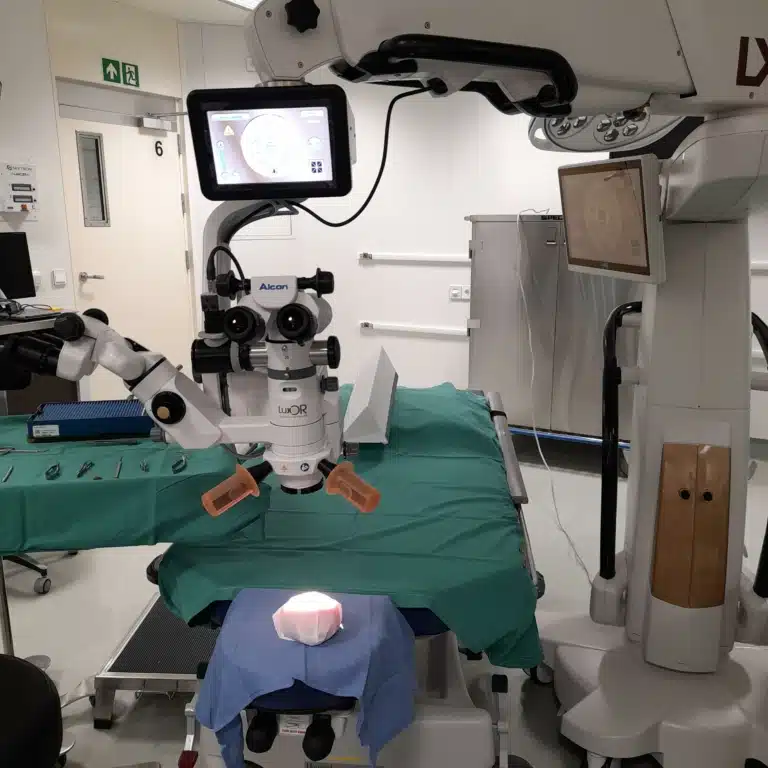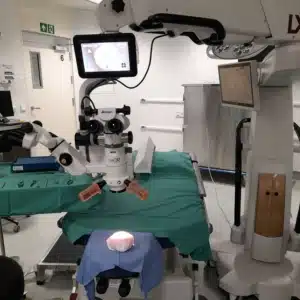 interested could register for a guided tour. The medical staff had done a great job! It wasn't just watching and listening, we were also allowed to practice! I helped put a bandage on someone's head. I also practiced my injection skills on a kiwi 😉 You could also practice moving an 'eye lens', looking through a microscope (which is also a profession in itself). There was also an opportunity to do a stomach operation (which brought out sweets and the occasional jet of lemonade). One of my African friends (Sorie) had a go at the operations. At the end of the tour we could also play a game with the Medical Capacity Building team and save a baby with breathing problems!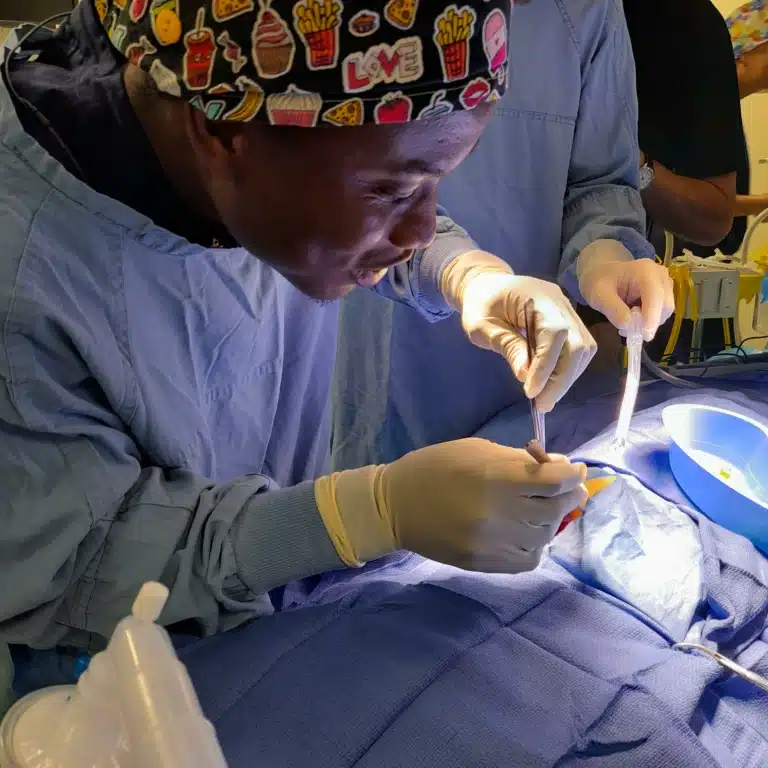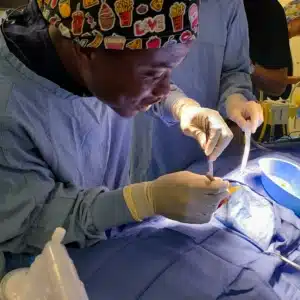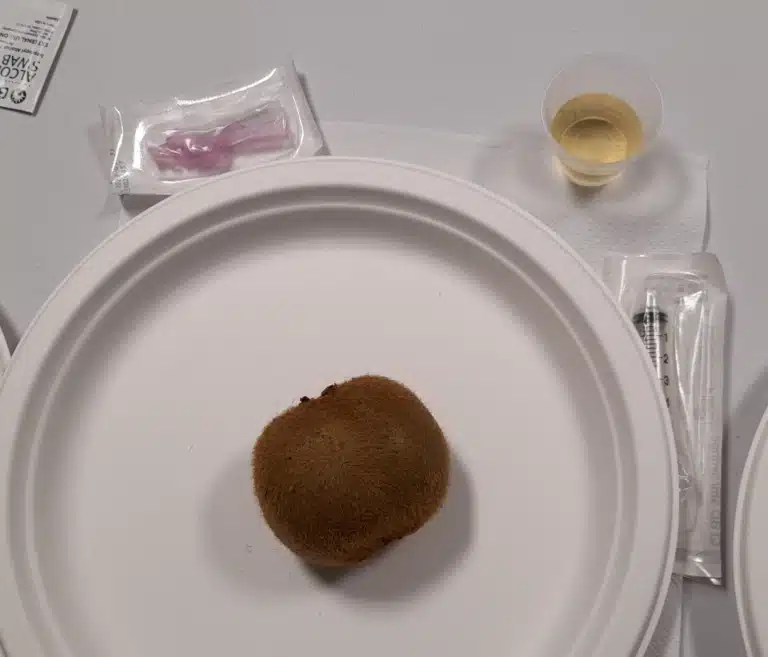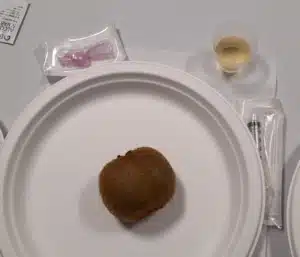 Kiwi injection (right under), above the set up for eye operation and left: stomach operation.
We started the tour with the Pre operation team (on deck 4). The patients are seen 3 times, and they answer questions such as why are you here, the health of the patients is examined, an assessment takes place, a consultation with a surgeon, an appointment with a dietitian and of course there is also an office space for processing of all the administration.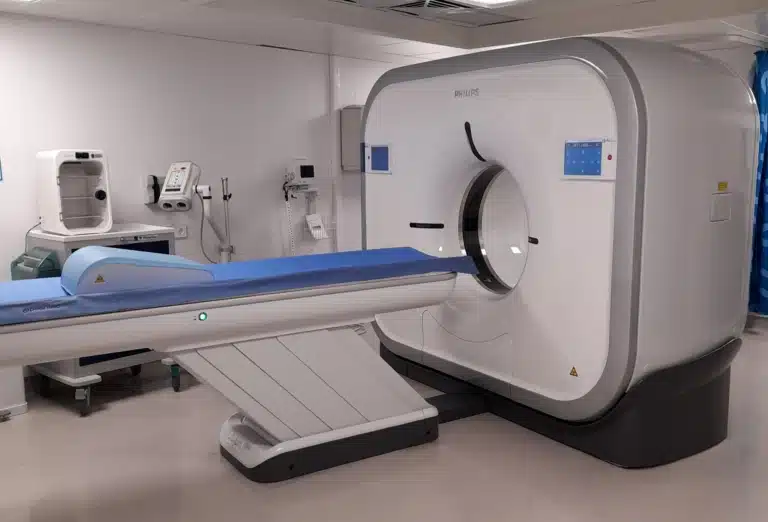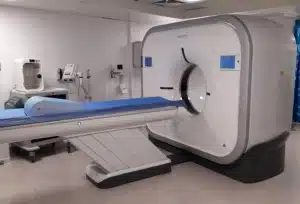 Then we came across Radiology. They have very advanced and modern machines such as a CT scanner (donated by Philips) and also a mobile X-ray unit. Tumors, legs, back, teeth can be studied and examined here.
Then we passed the Rehabilitation team. They explained what they do (e.g. for orthopedic conditions, plastic surgery, recovery from eye operations, making aids for rehabilitation). Patients recovering elsewhere also visit this team if necessary.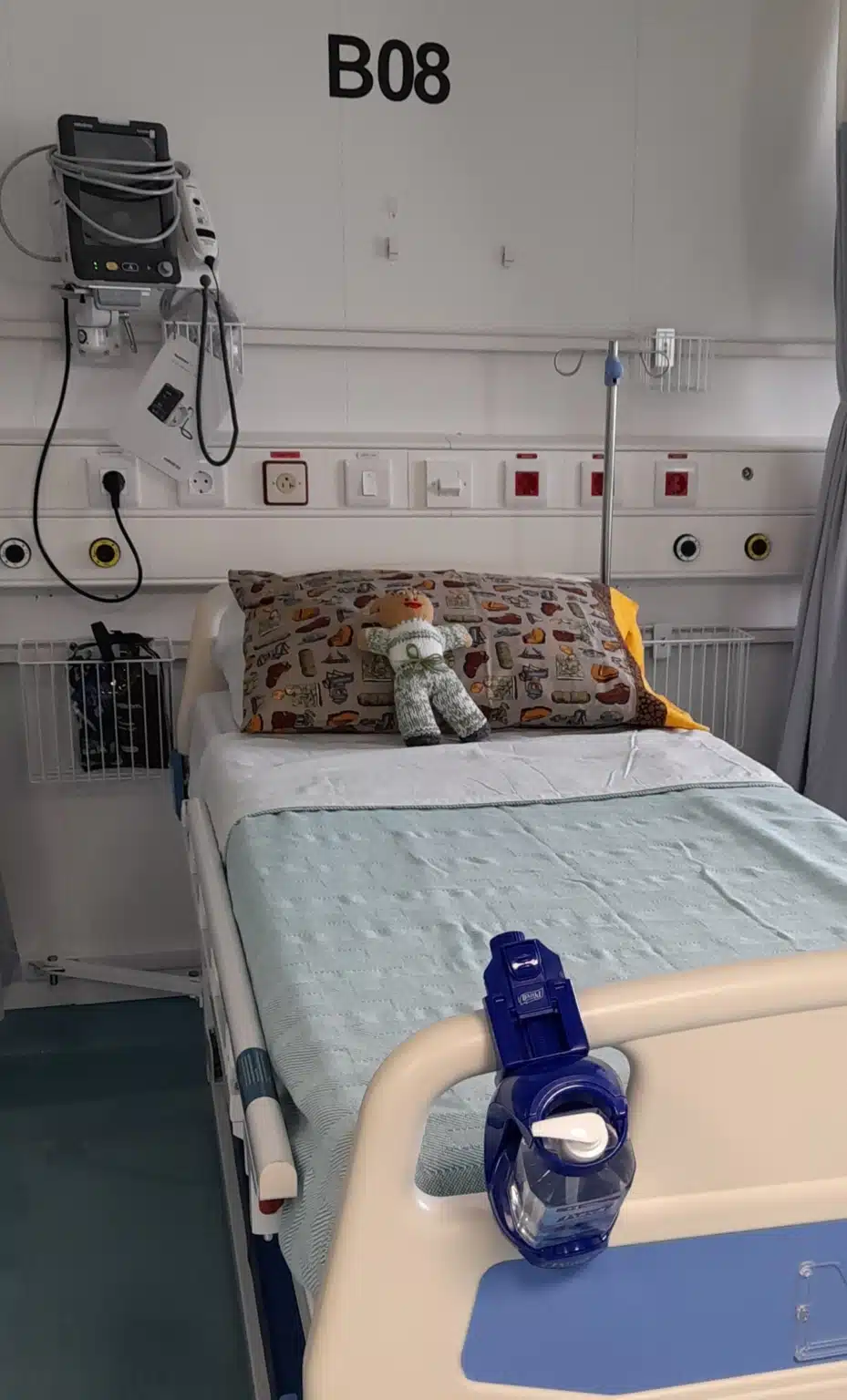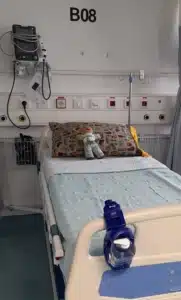 On deck 4 you will also find the hospital beds in various areas. It is the intention that patients who have had a certain type of operation (for example eye surgery) also share the room with each other. So easy for the nursing staff and doctors. There is also a 3-bed intensive care unit (now a stuffed bear was the patient) and an isolation room. We also looked at the low care unit. Here they have 45 bunk beds. There is room for 45 patients and their carer. For this group of patients there is also a recreation room in the ship and outside on the deck.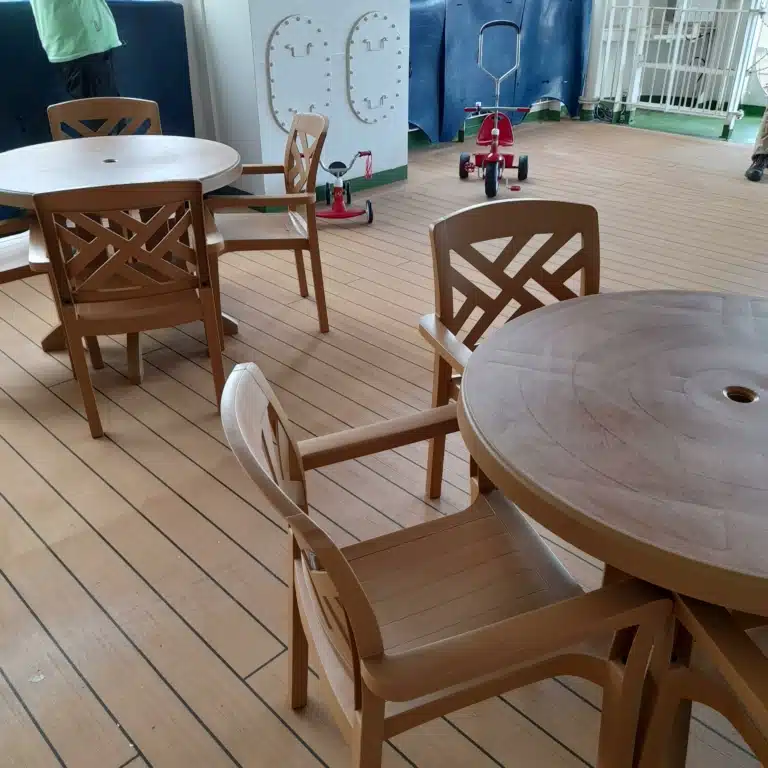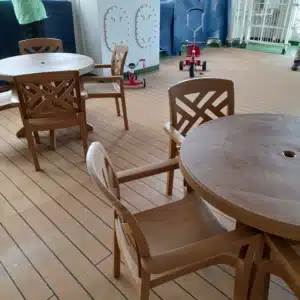 And then to deck 3 where the operating rooms have been realized. We were not allowed to enter several rooms here because they want to keep them sterile. You will find the recovery room and pharmacy there. What I found interesting to hear was that the set-up for the eye operations has been made in such a way that there are 2 beds and the surgeon (eye specialist) can work in a continues flow. The pharmacy has already done a lot of preparatory work by making a lot of medication packages. Already 2400 pieces! Many instructions must also be given in French, as Senegal is a French speaking country.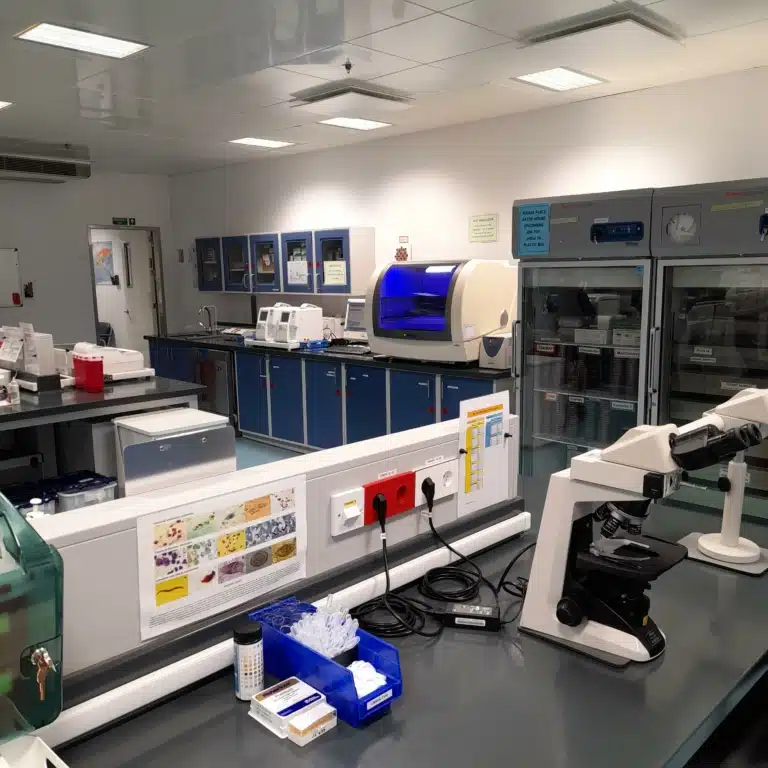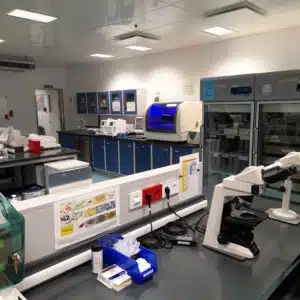 I found the lab super interesting. I went back in time when I studied Processing and Environmental Engineering and had a lot of chemistry and laboratory work. Has potential for a new career 😉 Parasites, microbiology and immunology are important words in the lab. Crew members can register as a blood donor, and that also takes place in this room.
We concluded with the Medical capacity building. They travel around Senegal and teach / train various people / hospitals.
As you can read, it is a real hospital and they have very modern and advanced machines. And they will start operating in 2 weeks!
Reflection
We are very blessed in the Netherlands with the healthcare system we have. Yes, we have to pay more and more and much is no longer included in our packages. Still a lot though! It is many times better than a lot of other places in the world. We can also get various insurance policies (for example, funeral insurance).
Last week one of my African friends had to return to his native country. His grandmother had passed away. She had been in the hospital for some time. The bill amounted to approximately € 22,000.00. Her body has not yet been handed over to the family for burial, the bill must first be paid. February 5th they had a special meeting to raise money to pay the bill and to raise enough money for the funeral and were able to collect half of it. I also made a contribution. They are now almost halfway the required amount and are trying to make a payment arrangement with the hospital.
In the presentation I received from the hospital, images of patients were shown, before and after.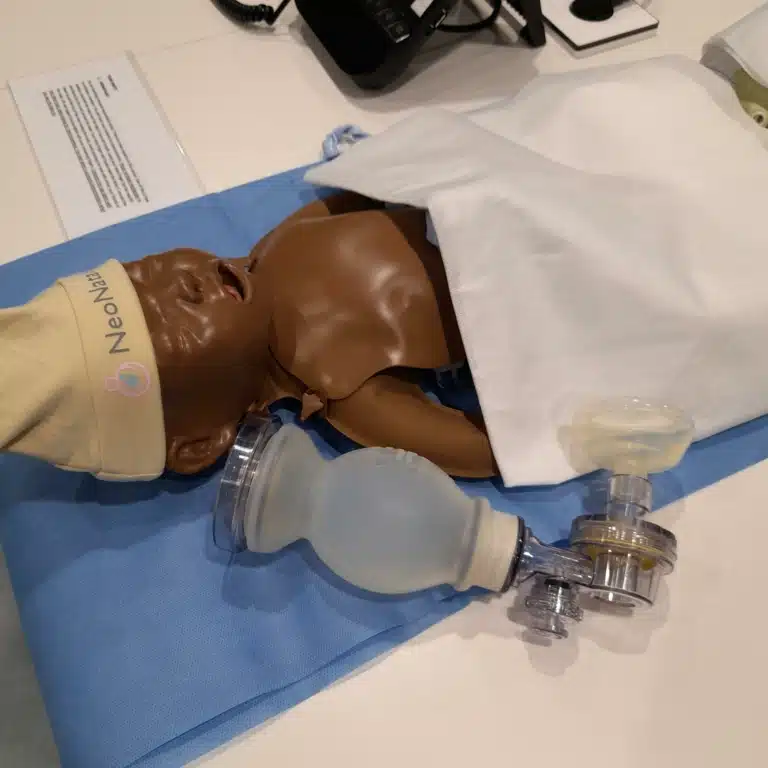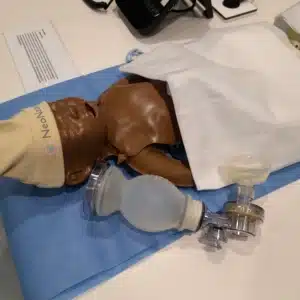 The nurse who gave the presentation said you can see so much in their eyes. They come in with no hope and then they get their surgery and their eyes start to sparkle full of live! I was touched by the story of a mother and daughter. Mother had a giant tumor in her face / neck (it weighed 8 kg) and had walked around with it for a long time. And then a tumor started to grow in her daughter. A video was shown about it when they were helped, the joy in the village and with the family. No one recognized her anymore! I had to wipe away a tear.
It shows the importance of looking at an individual, someone who is loved and may experience hope. It's love in action! Finally, a super beautiful video in which children who have been helped tell what love is. Love Is – YouTube
Background information
We now have almost 8 billion people on earth. Approximately 5 billion people do not have access to safe, affordable and timely surgery. Think about the person you love the most? How awful is it that you can't give that person the care he/she needs to get rid of a horrible ailment or a life of pain?
The goal for Mercy Ships is to transform lives and health systems. This is done by working on the following 3 pillars:
– Provide immediate medical services
– Building medical knowledge
– Develop medical systems and relationships.
Mercy Ships mainly focuses on Africa. A scientific study shows that in West Africa alone, about 22 million people need surgery. However, it is too expensive and often very far to travel. It is also questionable whether the necessary care is available and safe. If it is the bread winner who needs help, it often does not happen because the salary cannot be missed. Often one is faced with financial ruin because it is impossible to pay for (provided) surgical care. It is also often impossible to pay for travel and accommodation. The people are often in a hopeless situation and downward spiral.
Mercy Ships therefore pays for the travel and accommodation costs and tries to relieve as much of the burden as possible. This is based on the central principle that every individual is valuable. Mercy Ships also invests in training medical personnel in the countries they visit, building a well-functioning health system and also seeking cooperation with training centers where possible. In Senegal, for example, with a dental training so that the doctors in training can gain practical experience, which is not always part of the training. Training also includes being able to operate machines and surgical tools or sterilize equipment and environment. Mercy Ships also donates all kinds of materials to hospitals (with the necessary course for their maintenance).
Why are ships used?
There are several reasons including: it's mobile, secure, stable, can be used for training and development, it's cheaper than always building something somewhere and it provides a community for the crew.
What surgical procedures are performed and what services are provided?
The following were mentioned in the presentation: facial & oral surgery, orthopedic, plastic surgery (eg burns), paediatrics, women's health, ophthalmology, dentistry, education, rehabilitation, palliative care and pastoral care / attention to mental health.
Sometimes patients walk around with tumors for years, which grow very large because they are not treated. These tumors are sometimes the result of dietary patterns or are genetically determined.
So cool that people are being helped!