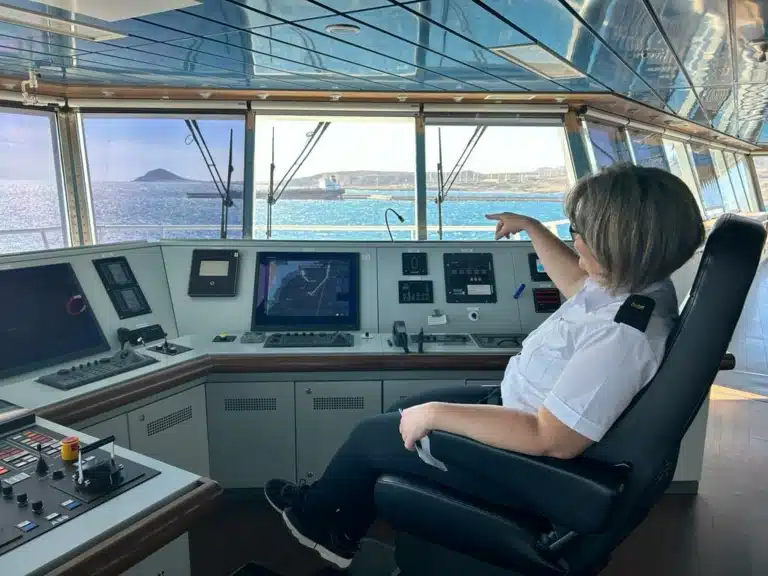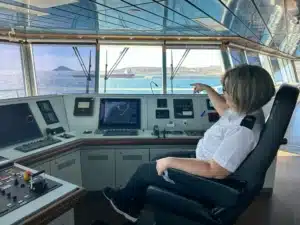 For me these blogs are also a kind of diary, so that's why one more of what I've done the past 2 weeks and the sailing program that was provided for us.
Outings!
Saturday, February 4, I had a surprising day! I planned to visit the village near the ship. Just before departure, a message came by that someone had one space left in their van and that they were going to a beach above Santa Cruz. I decided to join them! On arrival it was raining and more rain was coming. We then drove to the village of Puerto de la Cruz (other side of the island) and parked at the zoo (Loro Parque). I was pleasantly surprised because I wanted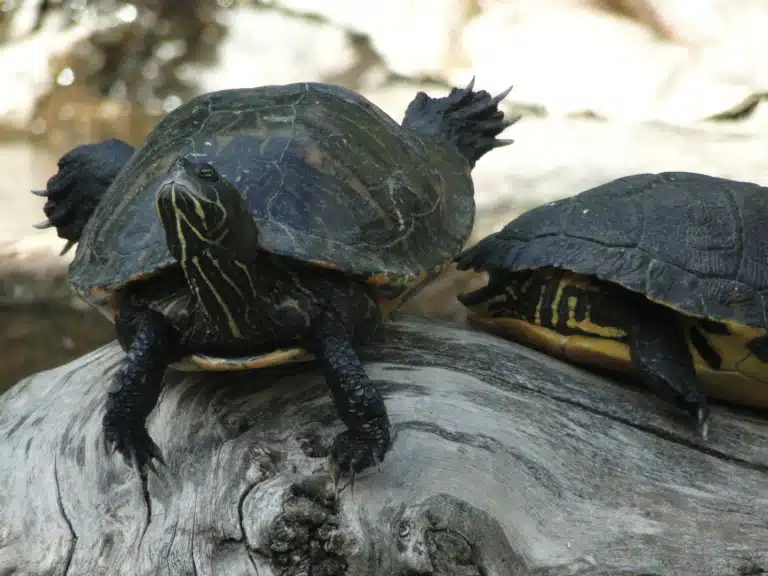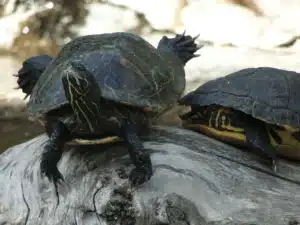 to visit a zoo! It was a super nice zoo with lots of space for various animals, height differences, beautiful plants and landscaped paths! I enjoyed it, unfortunately there was not enough time to watch all the shows and finish everything, but I was very impressed. And when I later took the pictures off my camera I had to laugh a lot at this picture of a turtle. He was really enjoying it!
When we got back to the ship I ran into some people who were going for dinner to China Town and they invited me to join them. I did that (that's the benefit of being alone, you have room for spontaneous actions!). It was an interesting experience with chairs that you sank deep into, all you can eat with various dishes that you could select from a menu, and it tasted nice. There were also several low budget shops where you were not allowed to walk around with a backpack. It was packed in a bag and I had to wait a long time to be able to walk out of the store again.
The next day I was talking to a Guinean and he let me taste Bitter Kola. A kind of nut, not tasty, but it seems to be very healthy. That goes for more things that don't taste as good, lol.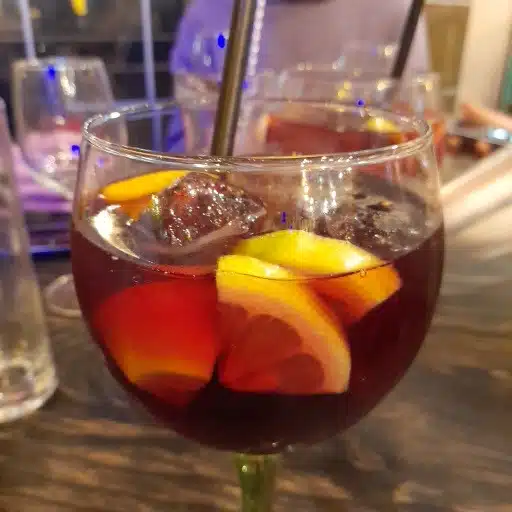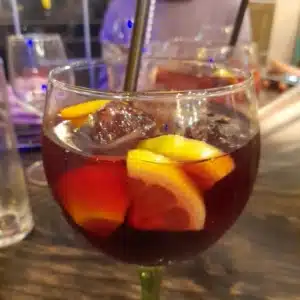 And we had a pancake evening with the Dutch. A large group prepared the pancakes and we had a great time chatting and eating. I even managed to sit in the sun with a book for over an hour that day. Very nice to do nothing!
Wednesday, February 8 was the last day we could get of the ship, loads of people decided to visit the villages in the area, so the ships were empty! I was invited to eat pizza in El Medano, which was very nice. And I had some Sangria with some Mercy Shippers.
Work week and meetings
The working week began with the further preparation of the ship for the sea voyage. Packing the glasses, moving and securing loose elements, collecting things that are lying here and there and looking for another place (in my case, plates and cutlery that are found and deposited at hospitality). We also moved various items from rooms and stored them more centrally. Think of cushions and attributes for isolation rooms. We were also able to donate even more stuff to the African Mercy (AFM) and that gave us extra space 😊 I did a lot of walking!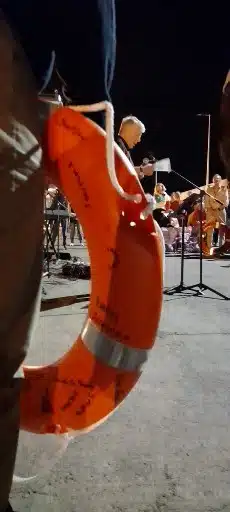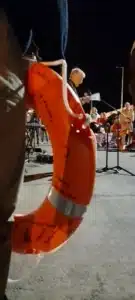 In addition to preparing the ship for sailing to Senegal, we also had a farewell meeting for the AFM and the Global Mercy (GLM) on Thursday evening. We stood outside on the dock, singing, praying, dancing and exchanging 2 gifts. In recent days, the crew members of both ships had written their names on the lifebuoys and these were now handed over. We got those from the AFM and they get those from the GLM. It will be many years before the ships are together in a port again.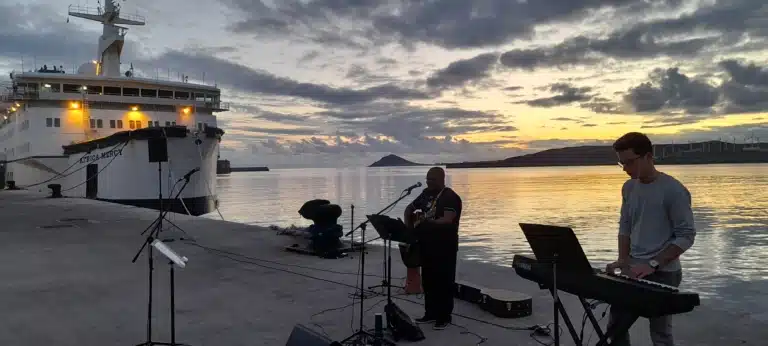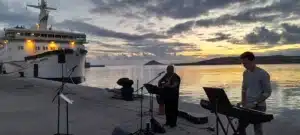 We have also started mass testing for Covid. Everyone is tested twice a week. And we continue with the fire drills. Last time I had to laugh. When you have your life jacket on, get into line position and hold the jacket of the person in front of you. And at a certain moment you start walking towards the lifeboats. It was like the polonaise, which went a bit fast, because the long-legged people took big steps and the short people had to run to keep up. It looked very funny.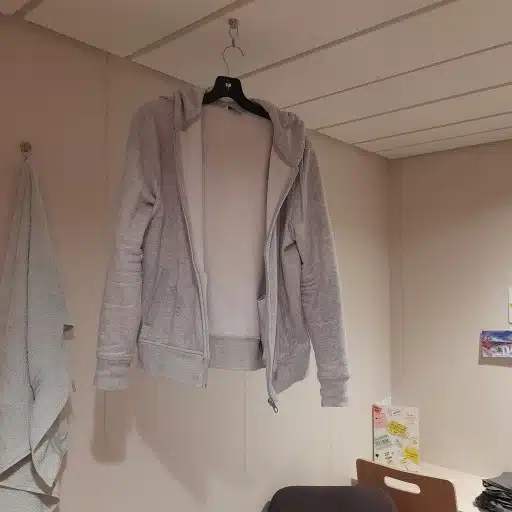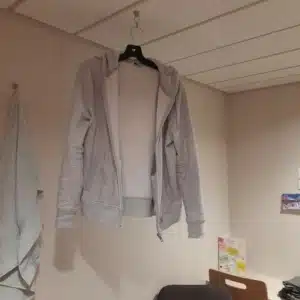 A stowaway search has also been conducted. We (hospitality) were allocated deck 6. It was a big job! Check all areas for unwanted persons, animals, plants and drugs. I got a tip from it. I can recommend it to everyone, make sure you have a magnetic ceiling, super handy! By attaching a magnet to the ceiling with a hook, you can hang a clothes hanger and, for example, let clothes dry 😊
And I got promoted! I am now also allowed to enter all names of arriving and departing crew in our excel files. We will receive a lot of people in the coming week. Because we left a week later, several new crew members have already arrived in Dakar. On Wednesday, February 15, about 50 people will come on board and on Thursday, February 16, another group of about 25 people will come on board. That's a lot of beds and cabins that we have to prepare. Hopefully we'll succeed. 2 days of hard work 😉
Friday, February 10: We're leaving!
And then the day of departure arrived! We started the morning with a meeting with the necessary information. Safety instructions about when a pirate ship is sighted, the moderate use of water, last opportunity to dispose of waste, etc. The captain read from Psalm 89:
O Lord God Almighty, who is like you? You are mighty, O Lord, and your faithfulness surrounds you. You rule over the surging sea; when its waves mount up, you still them. The heavens are yours, and yours also the earth; you founded the world and all that is in it. Righteousness and justice are the foundation of your throne; love and faithfulness go before you. Blessed are those who have learned to acclaim you, who walk in the light of your presence, O Lord.
The ships were closed for departure at 13.30 hours, so we took our last photos on the dock with the AFM and GLM and then the AFM left first. Somewhere around 17.00 hours the tugboat came to us and we also left. An exciting moment for several crew members because not everyone has ever sailed, so there were some concerns about seasickness. In the morning you could get a supply of pills. However, we are blessed with beautiful weather and a mirror-smooth sea. The ship rocks slightly.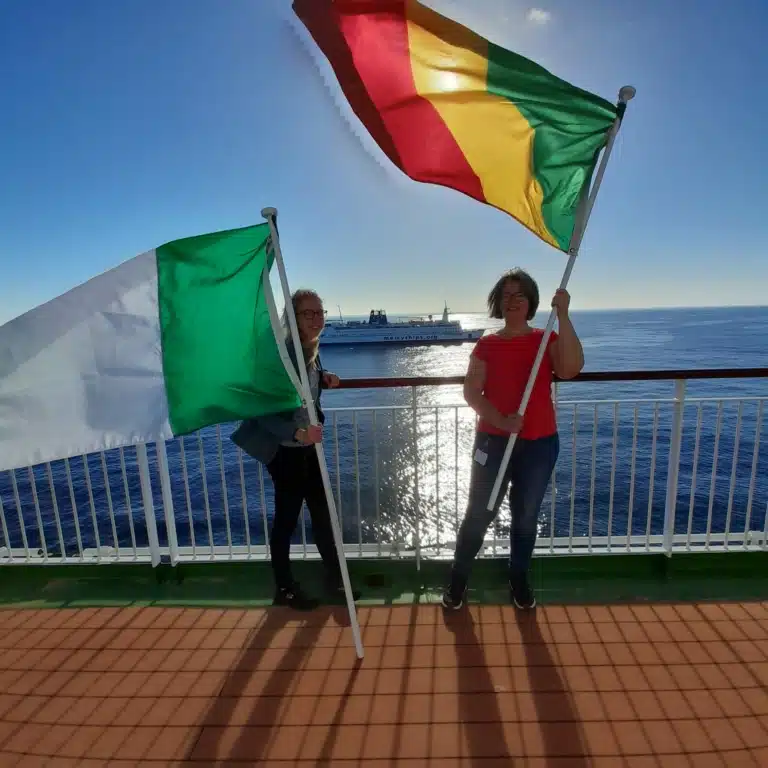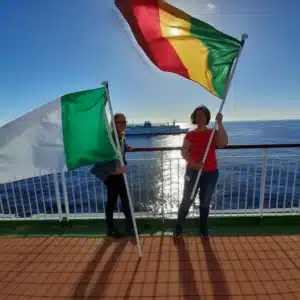 We sail very slowly, mainly to save fuel, so the trip takes four days. Tuesday the 14th we are expected to arrive in Dakar.
What is also nice to mention, we spent the first sailing night and morning together with the AFM. We sailed in each other's neighborhood and held a flag ceremony on Saturday morning, after which we really said goodbye to each other. The ship's horn of both ships did their best, a beautiful sound!
Sailing days
A whole program has been drawn up for the 4 sailing days. You don't have to be bored 😉 Inspiration has been sought in the upcoming Valentijn's Day, among other things. So far I have watched 2 movies, participated in a Trivia night (a kind of club quiz), watched a game how well married couples know each other and played some games with others. I also volunteered with the Dining room team at lunch on Saturday, they are short of hands. Sunday morning we had a singing service outside on deck 11. It was a beautiful experience, the ship went back and forth and we sang a lot of songs, there was dancing and we also had a moment of prayer. In the afternoon I played sock golf, a whole course had been laid out through the ship. I think I'm going to play it at the office too, so colleagues collect some old socks!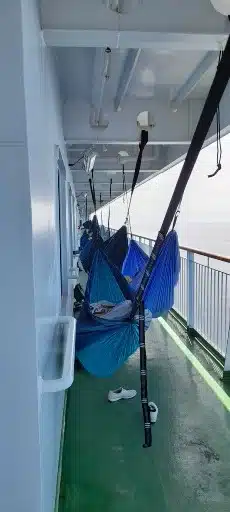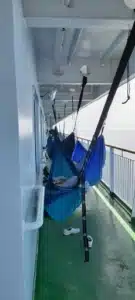 Fortunately, there is also room for some rest and relaxation. Some do that in a hammock, which is very funny to see.
We have seen dolphins several times while sailing, whales in the distance and some have also seen sea turtles!
Until next time 😊 To conclude, another picture of a beautiful sunset at sea. Tuesday the 14th we expect to arrive in Dakar around 9.00 hrs.