The hospital has started the first operations!
Last week we received the first patients on board and started with the first operations. 3 children had surgery on their legs! The youngest was 4 years old. I've heard it's quite challenging for the kids, and that's understandable! They come for the first time on a ship, in a hospital, see unknown things, see many white people (who also walk around with masks), hear a different language, have to do strange things and undergo all kinds of tests with strange machines and instruments.
I found this message on the Mercy Ships Facebook page about the first patient that arrived on the Global Mercy. If you have Facebook, it might be nice to start following it 🙂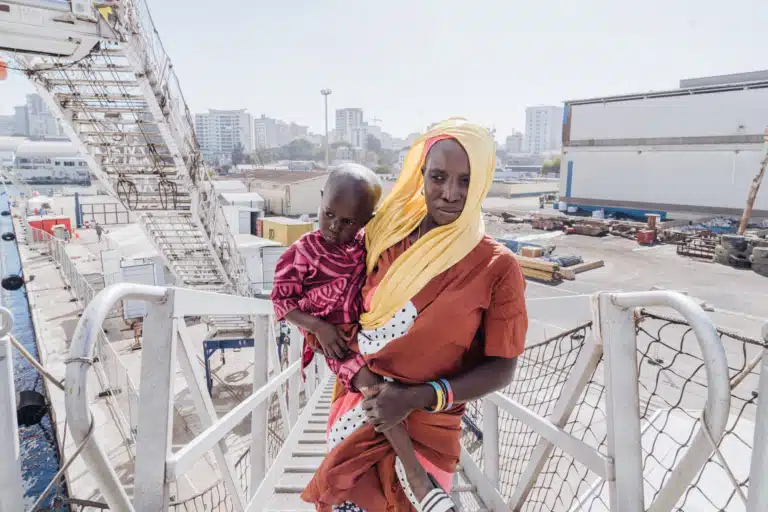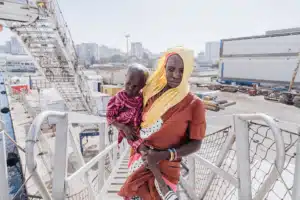 Meet 4-year-old Amadou, the very first patient to receive surgery on the #GlobalMercy! After a 400-mile journey across #Senegal, little Amadou and his caregiver, Mariatou, have taken the first step to #HopeAndHealing.
Though Amadou is the first to receive surgery on board the new hospital ship — thousands more are sure to follow in the years to come. A huge thank you to everyone who has helped to make this dream a reality.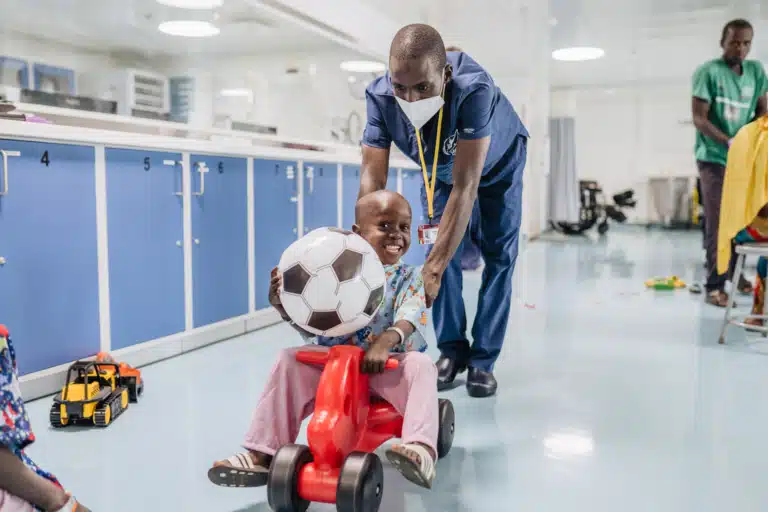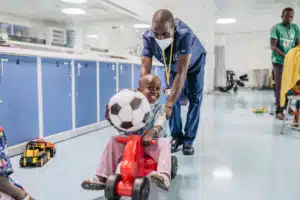 Last night I joined a conversation and we talked about simple things like holding your breath or asking if your feet are tingling / trying to find out if anything is numb. Holding your breath is unnatural and can be very scary, but how do you translate "numb"? Translators and medical staff face challenges. This is a week of firsts. This brings up some problems, some of them very practical (about waste for example). But also in communication, teams that have to work together / listen to each other, sometimes clashing personalities. It is therefore a difficult period with a chance of short fuses and the necessary frustrations 😉 That's why the sermon we heard on Sunday evening was also very appropriate. The speaker reflected on a busy day and period in the life of Jesus. He had been told that his cousin Johannes had been beheaded and wanted to go to a quiet place to pray and process this. However, many sought his attention, events did not happen as planned, his disciples were falling short. All very frustrating and recognizable. And how did he deal with it? He had compassion. Very enlightening and you can immediately put it into practice here on the ship!
Here is a link to the video that Mercy Ships made after the first operations. https://youtu.be/uEgtiotp8ik
Prayer
Prayer is a central element in everything that happens here on board. We also see the answers to prayers. A recent example is that the authorities did not release several containers that we needed. One of the containers contained many medically related items, without which we could not start the operations. When we were asked to pray for it, we en masse did so and that evening the container was released and arrived right on time. The director said: God provides everything we need. Not when we want it, but according to His timing.
Monday morning before the first operation started, there was also room for prayer. It was a special experience (also reflected in the video I shared above). The doctors spoke a number of prayers through the public address system and throughout the ship we stood and participated. We see and experience that we cannot do this on our own, but that we need God's help and guidance.
For those who want to read one of the prayers that were said last Monday, see the end of this message.
Dakar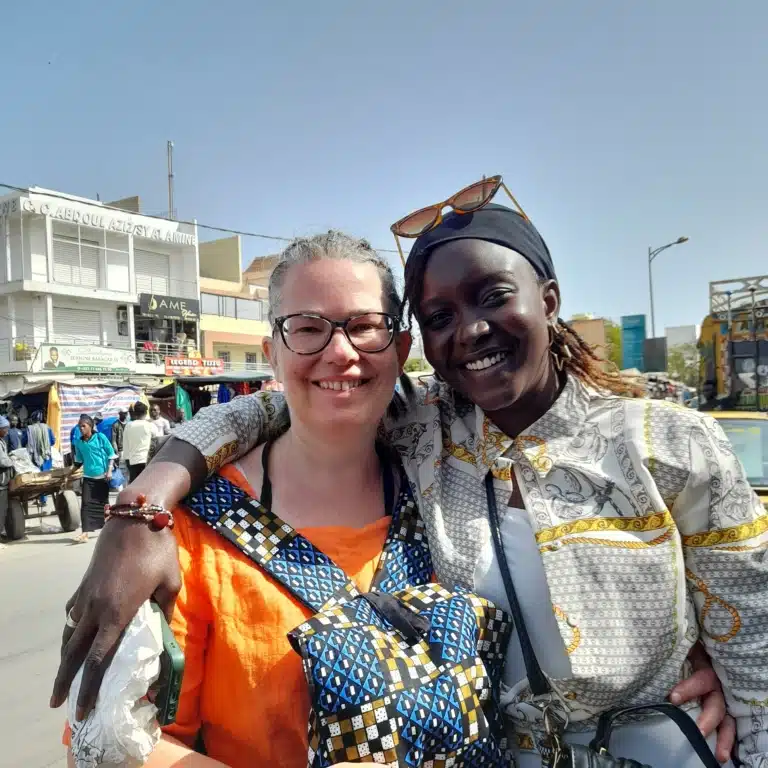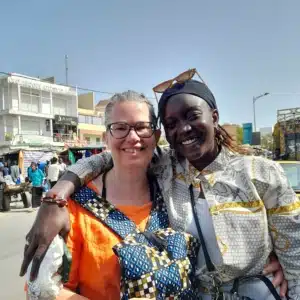 Today I want to tell you something about Dakar. Last time I wrote about Dakar having its own scent and that you see poverty and wealth side by side. When I wrote that, I had just been out and about with some Mercy Shippers that evening. During our walk we spoke of a naked man lying on the sidewalk nearby and along the way we also encountered a few people walking around in rags that concealed little. I asked David (Senegalese) what this was. He indicated that these persons are probably mentally ill. And then I immediately had to think of the Netherlands, how differently this is arranged in our country. There it is not accepted that someone is naked on the sidewalk day in and day out and people will be taken care of.  A world of contradictions.
Together with Soda, from Senegal. She helped me with buying fabric!
In a number of places you can still see some French influences in the architecture (from the colonial past). So far I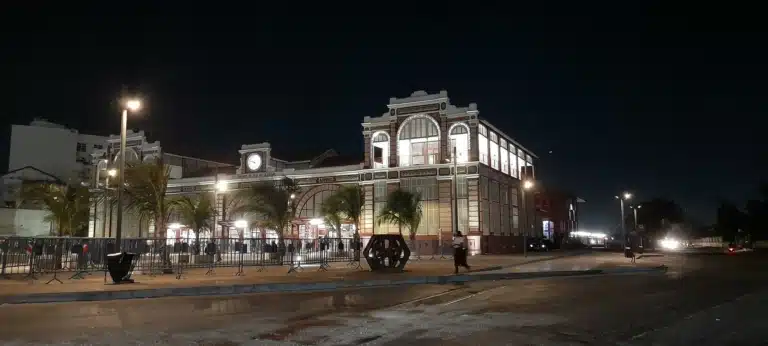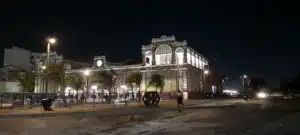 haven't really been able to discover many historical buildings and when I do find them, they are often not very well maintained. What there are a lot of are the taxis! Really the means of transport to move us around the city. They are yellow and black and they probably won't pass the MOT 😉
Trainstation by night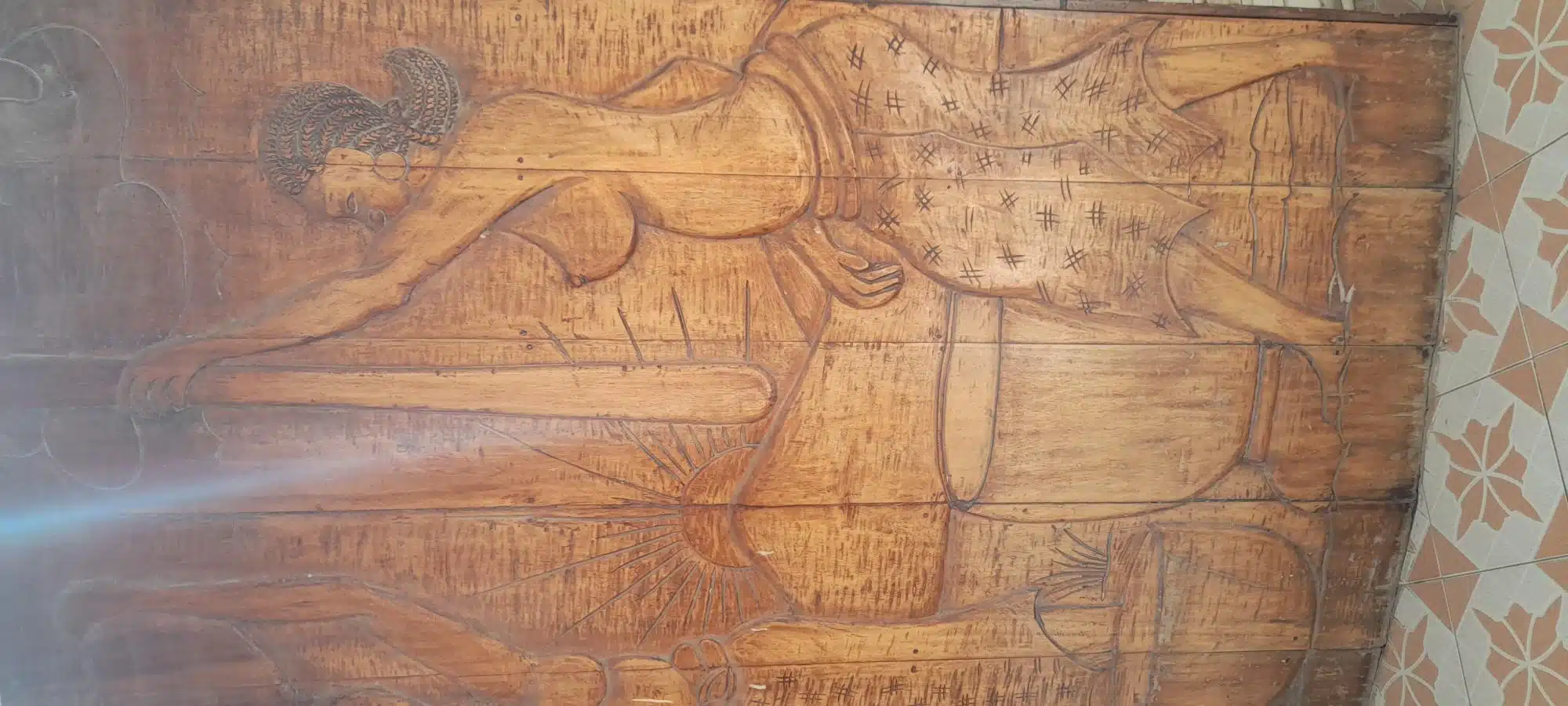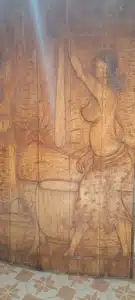 If you like negotiating, you can indulge yourself here! A ride through the city center (depending on the crowds and location) costs approximately 3.000 CFA (comparable to € 4,50). Recently a driver asked 7,000 CFA for a short trip and he didn't want to go any lower. Fortunately there are several taxis and we found a reasonable taxi driver very quickly. There are serious traffic jams here. As a result, journeys can take a very long time. We notice that when we take people to the airport or pick them up. Normally a ride should take an hour on average, often you have to allow 3 hours for it. Last night I was waiting for 2 new crewmembers, they had left the airport around 7pm and didn't arrive at the ship until 10.15pm. Now it was also exceptionally busy yesterday because today is a day off in many places. It's International Women's Day.
Personally, I don't think Dakar is such a pleasant city (at least the part I've seen). There is little greenery, it is messy and so busy. And French as a language doesn't help me either. However, I have signed up for an excursion that takes us outside the city "Food for life". Mercy Ships also has a project that focuses on agriculture, and I'm very curious about that! I also booked a short holiday trip of 4 days with some Mercy Shippers, to explore a part of Senegal.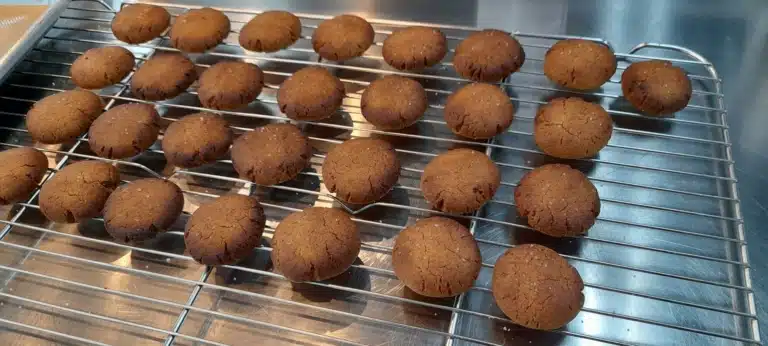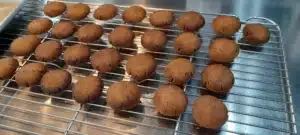 I noticed that I was quite tired, so last weekend I took a rest! I stayed on the ship and experimented a bit with making Kuli Kuli (a Ghanaian snack). It was a big fail! When frying it dissolved. So I then made spicy peanut cookies by adding flour, butter and some sugar. In the evening I organized a Fikka (Swedish for a cozy gathering with cookies) and I received the necessary compliments. They really liked it! And my spontaneous action also inspired others, so hopefully this good example will be followed up 😉
It's almost my birthday! And on Saturday I will celebrate that together with Inge who has her birthday today. We booked one of the lounges on the ship and invited several people to it. Friday evening I want to bake something and do some shopping on Saturday. That will also be a lovely experience 😊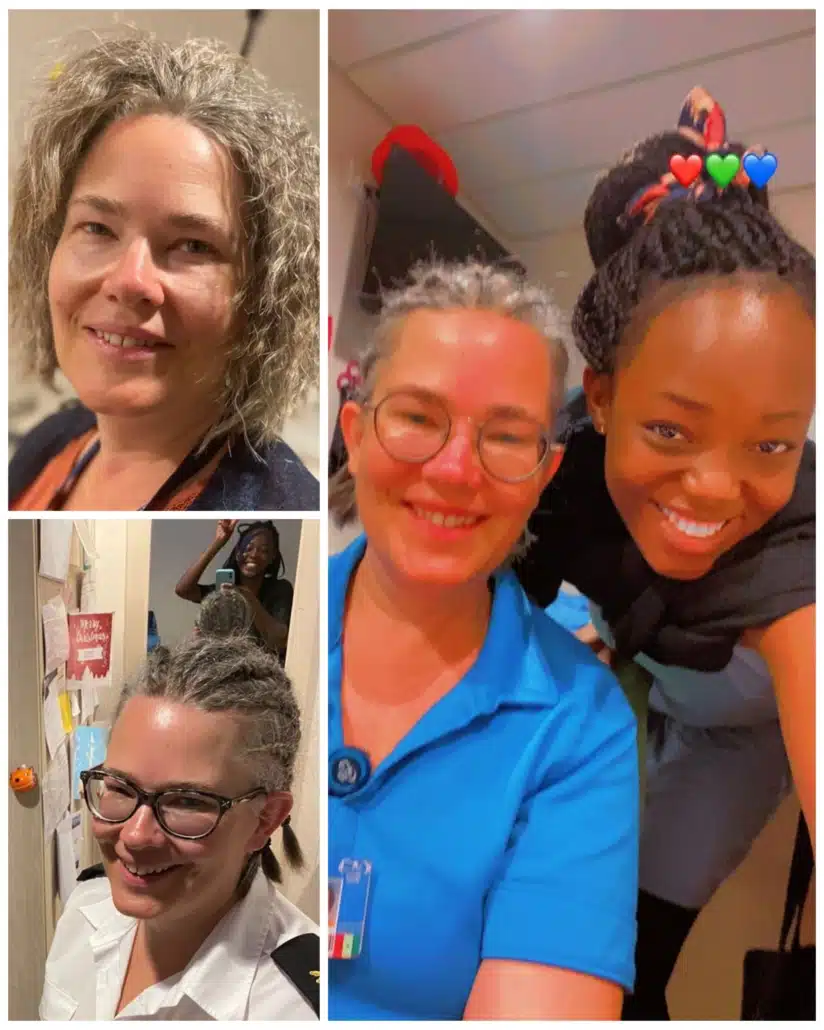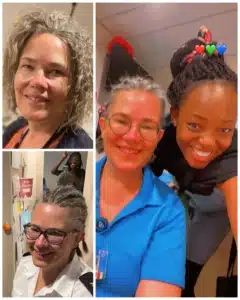 Oh yes, I told you last time about Dorcas braiding my hair. That worked out super well, I didn't recognize myself anymore. And received many compliments. After a week we took it out again and I had a huge bunch of hair and everyone asked, where did your braids go?
Meetings
I have written before that we have the necessary meetings. A new one has been added since last week: Wednesday Night Medical. Doctors will give lectures on a variety of topics on a regular basis. You can get credits for this. I attended the first one because I heard it can be very interesting. This evening the doctor reflected on poverty. Because I thought it was interesting, here's a summary. What is Poverty?
When we think of poverty, we often think of the lack of material things. However, there are also psychological and social elements involved. Poverty is terrible, think of illness, shame, humiliation, being dependent on others, no one who needs you, being treated like garbage, feeling powerless and not being able to speak up. You can imagine feeling very unhappy and depressed. Poverty therefore affects the mental (poor self-image, little perspective), the spiritual (anxiety), the social (limiting limitations) and the physical (few resources and limited options). Researchers have defined poverty as a lack of freedom to grow.
Seen from a Biblical perspective, Jesus Christ came to liberate people and give them life in all its fullness. Mercy Ships uses this principle in their work by investing in education and training, investing in relationships and advocacy, applying a biblical worldview to performing spiritual and surgical procedures, and applying dentistry in improving health and addressing the physical conditions.
I found it interesting that the doctor also went into more detail about the world view part and the spiritual / spiritual elements. In the Western world, the spiritual has almost disappeared and what is special to realize yourself: the Western world view is in the minority. There are many more people who have a very different world view than you and me. The biblical world view is based on God, yourself, others and creation. Poverty can then be defined as broken relationships. This is nicely illustrated in the image below.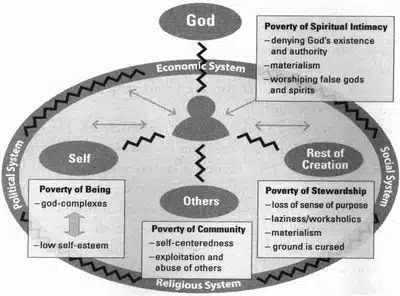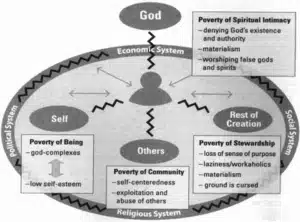 The doctor gave another practical example. In some areas, babies born with a cleft lip are seen as demons and buried alive. Terrible. In such situations (caused by a certain worldview) giving surgery is not the solution. A new spiritual perspective needs to be offered. And as Christians, we believe that Jesus (the biblical worldview) offers this. This entails transformation. Prayer is essential in this. This was also clarified with an example. The spirit world does not exist according to the Western worldview. Here in Africa, however, it is the other way around, and there is a spiritual world view that is deeply engrained in their culture. A young girl had surgery on her cleft lip. It was a successful operation, but she didn't get better, her condition deteriorated dramatically and there were concerns about whether she would make it. This could not be explained medically. She was prayed for, but nothing changed. However, God gave insight. The eye of the medical staff fell on a bracelet that the child was wearing and they inquired. As it turned out, it was an amulet, given by a relative at the birth of the girl. After permission to cut it, the girl's condition improved to such an extent that she was able to leave ICU after a few hours. This is a clear example where the spiritual intervenes in the physical. It shows that there are also invisible forces at work that don't always have your best interests at heart. Through prayer, God was able to provide insight into what the problem was in this situation.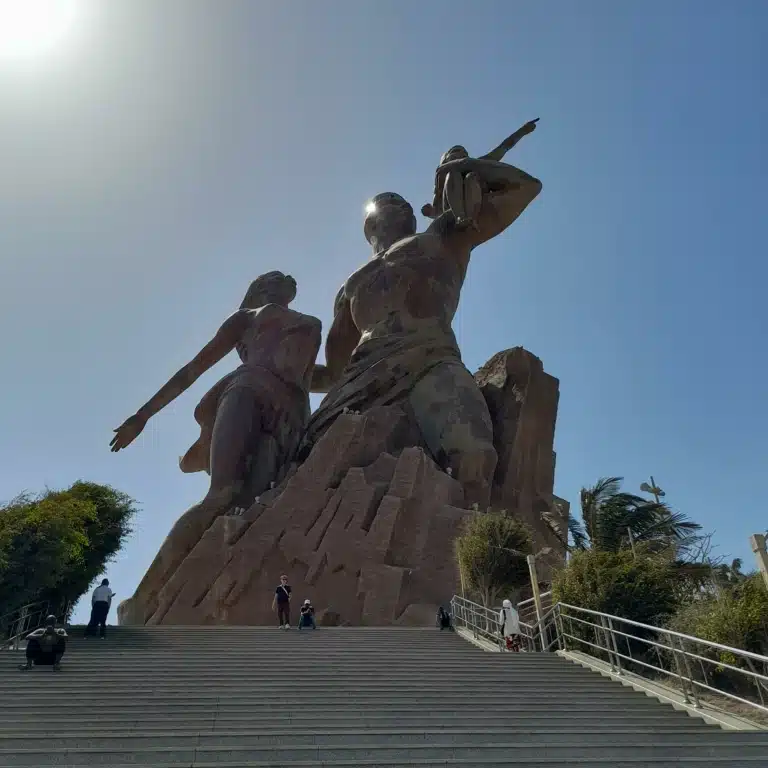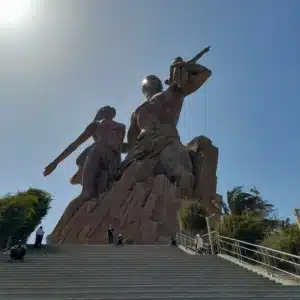 Monday morning prayer
Merciful Father,
You have called us from many tribes and nations, languages and cultures. Both young and old, you have appointed each one of us to participate in your Kingdom work here in Senegal.
Compassionate Christ, let us see you in those with deformed faces and broken lives. Let us hear you in the grieving and the oppressed. Let us know you in the hungry and the vulnerable.
Transforming Spirit, You whose indwelling presence brings renewal and restoration. Flow through our hands and pour out healing. Flow from our hearts and extend hope to the hopeless. Flow through our lives with saving grace. Flow through all we do and make others whole.
Impressive statue, more than 50 m high
Eternal God, Creator, Redeemer, Comforter. Touch and transform us. Let your love grow strong and deep with us. Let your compassion fill our hearts and overflow to others through us. And may your presence in us bear fruit of mercy, love and justice.
Until your world is changed. And all creation is restored and made new. In the strong name of Jesus we pray.
Amen.